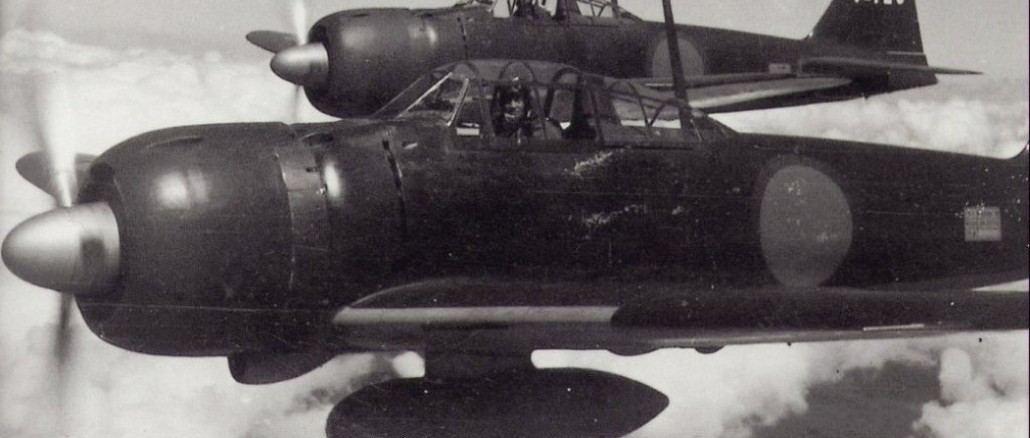 From 1931, new experimental aircraft under consideration to fulfil the needs of the Imperial Japanese Naval Air Service were given a shisaku seizo (trial manufacture) designation. This was combined with the current era year (i.e. the year of the current Emperor's reign) and the type designation of the aircraft to give its full experimental title.
Therefore the famous A6M Zero was original designated as a contender for the 12-Shi Carrier Fighter, the requirements for which were issued in 1937 (Showa 12). When selected for production, the winning design was assigned a 'type' number based on the national year when the design was accepted. Therefore the A6M was designated as the Type 0 Carrier Fighter for the year 1940 when the design was accepted.
The following is a list of the aircraft design programs initiated by the IJNAS between 1931 and 1945.
Showa 6 – Japanese year 2591 – Calendar year 1931
6-Shi Night Reconnaissance Flying Boat: Aichi AB-4 (not selected for production)
6-Shi Two-seat Carrier Fighter: Nakajima NAF-1 (not selected for production)
6-Shi Carrier Bomber: Nakajima design (not selected for production)
Showa 7 – Japanese year 2592 – Calendar year 1932
7-Shi Reconnaissance Seaplane: Aichi E7A, Kawanishi E7K (selected as Type 94)
7-Shi Carrier Attack Bomber: Aichi AB-8, Kusho B3Y (selected as Type 92), Mitsubishi 3MT10, Nakajima B3N
7-Shi Carrier Fighter: Mitsubishi 1MF10 Taka, Nakajima NC (none selected for production)
7-Shi Twin-engine Carrier Aircraft: Mitsubishi 3MT5 (not selected for production)
7-Shi Carrier Bomber: Nakajima design (not selected for production)
7-Shi Attack Bomber: Hiro G2H (selected as Type 95)
Showa 8 – Japanese year 2593 – Calendar year 1933
8-Shi Carrier Bomber: Aichi D1A (selected as Type 94/96), Nakajima D2N, Kusho D2Y
8-Shi Reconnaissance Seaplane: Aichi E8A, Aichi AM-7, Kawanishi E8K, Nakajima E8N (selected as Type 95)
8-Shi Special Reconnaissance Plane: Mitsubishi Ka-9 retroactively designated G1M1
8-Shi Two-seat Carrier Fighter: Mitsubishi Ka-8, Nakajima NAF-2 (none selected for production)
Showa 9 – Japanese year 2594 – Calendar year 1934
9-Shi Carrier Attack Bomber: Kusho B4Y (selected as Type 96), Mitsubishi B4M, Nakajima B4N
9-Shi Small Reconnaissance Seaplane: Watanabe E9W
9-Shi Attack Bomber: Mitsubishi G3M (selected as Type 96)
9-Shi Flying Boat: Kugisho H5Y, Kawanishi H6K (selected as Type 97)
9-Shi Night Reconnaissance Seaplane: Aichi E10A (selected as Type 96), Kawanishi E10K (small numbers used as transports as Type 94)
9-Shi Carrier Fighter: Mitsubishi A5M (selected as Type 96), Nakajima PA, AN-1
Showa 10 – Japanese year 2595 – Calendar year 1935
10-Shi Carrier Attack Bomber: Mitsubishi B5M (selected for back-up production as Type 97-2), Nakajima B5N (selected as Type 97-1)
10-Shi Observation Seaplane: Aichi F1A, Kawanishi F1K, Mitsubishi F1M (selected as Type 0)
10-Shi Carrier Reconnaissance Plane: Nakajima C3N (not selected for production)
Showa 11 – Japanese year 2596 – Calendar year 1936
11-Shi Seaplane Trainer: Kawanishi K6K, Mitsubishi K6M, Watanabe K6W
11-Shi Reconnaissance Seaplane: Aichi E11A (selected Type 98), Kawanishi E11K (two prototypes used as utility transports as E11K1 Type 96)
11-Shi Primary Trainer Seaplane: Kawanishi K8K (selected as Type 0), Kyushu K8W, Nihon K8P
11-Shi Crew Trainer: Mitsubishi K7M
11-Shi Carrier Bomber: Aichi D3A (selected as Type 99), Mitsubishi D3M, Nakajima D3N
Showa 12 – Japanese year 2597 – Calendar year 1937
12-Shi Special Flying Boat: Kugisho H7Y
12-Shi Small Reconnaissance Seaplane: Kyushu E14W, Kugisho E14Y (selected as Type 0)
12-Shi Two-seat Reconnaissance Seaplane, revised to include 12-Shi Three-seat Reconnaissance Seaplane requirement: Aichi E12A (two-seat) and E13A (three-seat, selected as Type 0), Kawanishi E12K (two-seat) and E13K (three seat), Nakajima E12N (two-seat)
12-Shi Carrier Fighter: Nakajima (withdrew from competition), Mitsubishi A6M (selected as Type 0)
12-Shi Attack Bomber: Mitsubishi G4M (selected as Type 1)
Showa 13 – Japanese year 2598 – Calendar year 1938
13-Shi Carrier Bomber: Kugisho D4Y Suisei (selected as Type 2)
13-Shi Attack Bomber: Mitsubishi G5M, Nakajima G5N Shinzan (selected as Type 2)
13-Shi Flying Boat: Kawanishi H8K (selected as Type 2)
13-Shi Training Flying Boat: Aichi H9A (selected as Type 2)
13-Shi High-speed Reconnaissance Plane: Aich C4A (cancelled in favour of Mitsubishi C5M)
13-Shi Escort Fighter: Nakajima J1N
Showa 14 – Japanese year 2599 – Calendar year 1939
14-Shi Primary Trainer: Kyushu K9W Momiji (license-built Bücker Bü 131 Jungmann)
14-Shi Intermediate Trainer: Kyushu K10W
14-Shi Interceptor Fighter: Mitsubishi J2M Raiden
14-Shi High-speed Reconnaissance Seaplane: Kawanishi E15K Shiun
14-Shi Medium Flying Boat: Hiro H10H
14-Shi Carrier Attack Bomber: Nakajima B6N Tenzan
Showa 15 – Japanese year 2600 – Calendar year 1940
15-Shi Operations Trainer: Kyushu K11W Shiragiku
15-Shi Fighter Seaplane: Kawanishi N1K Kyofu, Nakajima A6M2-N
15-Shi Training Fighter: Mitsubishi A5M4-K
15-Shi Bomber: Kugisho P1Y
Showa 16 – Japanese year 2601 – Calendar year 1941
16-Shi Attack Bomber: Mitsubishi G7M Taizan
16-Shi Carrier Attack Bomber: Aichi B7A Ryusei
16-Shi Reconnaissance Seaplane: Aichi E16A Zuiun
Showa 17 – Japanese year 2602 – Calendar year 1942
17-Shi Reconnaissance Plane: Kugisho R1Y Seiun
17-Shi Patrol Plane: Kyushu Q1W Tokai
17-Shi Carrier Fighter: Mitsubishi A7M Reppu
17-Shi Interceptor Fighter: Kawanishi J3K, Mitsubishi J4M Senden
17-Shi Special Attack Bomber: Aichi M6A Seiran
17-Shi Carrier Reconnaissance Plane: Nakajima C6N Saiun
17-Shi Primary Training Glider: Mizuno MXZ1, Nihon Kogato MXJ1 Wakakusa
Showa 18 – Japanese year 2603 – Calendar year 1943
18-Shi Reconnaissance Plane: Kugisho R2Y Keiun
18-Shi Interceptor Fighter: Nakajima J5N Tenrai, Kawanishi J6K Jinpu, Kyushu J7W Shinden
18-Shi Attack Bomber: Nakajima G8N Renzan
18-Shi Night Fighter: Aichi S1A Denko
Showa 19 – Japanese year 2604 – Calendar year 1944
19-Shi Interceptor Fighter: Mitsubishi J8M Shusui
19-Shi Patrol Plane: Mitsubishi Q2M Taiyo
Showa 20 – Japanese year 2605 – Calendar year 1945
20-Shi Carrier Fighter: Kawanishi A8K, Mitsubishi A8M Rikufu, Nakajima A8N
20-Shi Special Torpedo Bomber Aircraft: Aichi B8A Mokusei