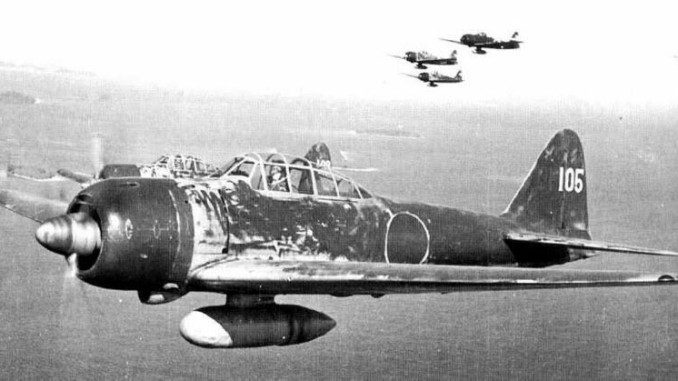 The Mitsubishi A6M was designed by the legendary aircraft engineer Jiro Hirokoshi in response to the Japanese's Navy's 12-Shi requirement for a new carrier fighter to replace the A5M Type 96. The request called for a speed of 370mph, an endurance of 8 hours, a pair of 20mm cannon, and manoeuvrability at least equal to the A5M. Nakajima were also invited to submit a proposal, but pulled out citing unachievable requirements. Hirokoshi's team produced a winning design which was designated the Type 0 Carrier Fighter, commonly known as the 'Reisen' or 'Zero-Fighter' in Japanese and the 'Zero' to the Allies.
The A6M achieved its excellent manoeuvrability by having a very low wing loading, coupled with large control surfaces. The airframe was largely constructed of new extremely light duralumin, but featured no armour or bulletproof protection for the pilot, and no self-sealing fuel tanks. This helped the Zero to maintain its nimbleness and range, but would prove deadly to hundreds of pilots during the war. It was powered by a Nakajima Sakae engine which produced 1,000hp, low by Western standards but enough to propel the fighter to over 300mph. The Zero was usually seen with a 330 litre drop tank under the belly to provide the necessary endurance.
The A6M made its combat debut over China, escorting bombers to Chungking and Chengtu, quickly destroying the remnants of the Chinese Air Force. The type flew from all 6 of the carriers assigned to the Pearl Harbor operation, and during the first stages of the war over the Philippines and the Dutch East indies it swept the skies of Allied fighters. The Zero then featured in the carrier battles of 1942 and the Guadalcanal campaign, where it came up against the F4F Wildcat using 'Tach Weave' tactics to counter the superior agility of the Japanese fighter.
By 1943 the tide had begun to turn for the Zero, as many of the best pilots had been killed during the previous year's battles and the USN and USAAF were introducing better aircraft like the F4U Corsair, F6F Hellcat and P-38 Lighting. Unfortunately the Japanese were unable to produce a viable replacement so the Zero soldiered on until the end of the war, suffering tremendous losses but still proving to be a dangerous adversary in the hands of one of the few remaining skilled pilots in the IJN. Zeros were commonly used in the kamikaze role throughout the last year of the war.
In 1942 the Zero was assigned the Allied Reporting Name 'Zeke' by Capt Frank T. McCoy, who was inspired to choose the hillbilly name as a tribute to his Southern roots. The square-winged A6M3 Model 32 was initially assigned the codename 'Hap' as a tribute to General Henry H. 'Hap' Arnold, chief of the Army Air Force, but he objected to this so the codename was quickly changed to 'Hamp' instead.
Mitsubishi A6M Type 0 Specifications
Mitsubishi A6M1
Role
Carrier Fighter
Crew
1
Powerplant
1x Mitsubishi Zuisei 13 (950hp)
Speed
316mph (max)
Ceiling
32,810ft
Range
1,160 miles (internal)
1,929 miles (external)
Armament
2x Type 97 7.7mm Machine Gun
2x Type 99 20mm Cannon

Ordnance
265lb bombs
Dimensions
29ft 9in (length)
39ft 4in (wingspan)
11ft 6in (height)
Wing Area
242 sq.ft.
Weight
3,642lb (empty)
5,165lb (gross)

Number produced
3
Mitsubishi A6M2 Model 11
Role
Carrier Fighter
Crew
1
Powerplant
1x Nakajima Sakae 12 (975hp)
Speed
207mph (cruise)
331mph (max)
Ceiling
33,000ft
Range
1,160 miles (internal)
1,929 miles (external)
Armament
2x Type 97 7.7mm Machine Gun
2x Type 99 20mm Cannon

Ordnance
265lb bombs
Dimensions
29ft 9in (length)
39ft 4in (wingspan)
11ft 6in (height)
Wing Area
242 sq.ft.
Weight
3,704lb (empty)
5,313lb (gross)
6,164lb (max)
Number produced
64
Mitsubishi A6M2 Model 21
Role
Fighter
Crew
1
Powerplant
x Nakajima Sakae 12 (975hp)
Speed
207mph (cruise)
331mph (max)
Ceiling
33,000ft
Range
1,160 miles (internal)
1,927 miles (external)
Armament
2x Type 97 7.7mm Machine Gun
2x Type 99 20mm Cannon

Ordnance
265lb bombs
Dimensions
29ft 9in (length)
39ft 4in (wingspan)
10ft 0in (height)
Wing Area
242 sq.ft.
Weight
3,704lb (empty)
6,164lb (gross)
6,164lb (max)
Number produced
1,552
Mitsubishi A6M2-N
Role
Fighter Seaplane
Crew
1
Powerplant
1x Nakajima Sakae 12 (975hp)
Speed
184mph (cruise)
271mph (max)
Ceiling
32,810ft
Range
714 miles (internal)
1,107 miles (external)
Armament
2x Type 97 7.7mm Machine Gun
2x Type 99 20mm Cannon

Ordnance
265lb bombs
Dimensions
33ft 1in (length)
39ft 4in (wingspan)
14ft 1in (height)
Wing Area
242 sq.ft.
Weight
4,235lb (empty)
5,423lb (gross)
6,349lb (max)
Number produced
327
Mitsubishi A6M3 Model 22
Role
Carrier Fighter
Crew
1
Powerplant
1x Nakajima Sakae 21 (1,130hp)
Speed
338mph (max)
Ceiling
33,000ft
Range

1,477 miles (external)
Armament
2x Type 97 7.7mm Machine Gun
2x Type 99 20mm Cannon

Ordnance
265lb bombs
Dimensions
29ft 9in (length)
36ft 1in (wingspan)
11ft 6in (height)
Wing Area
232 sq.ft.
Weight
3,984lb (empty)
5,609lb (gross)

Number produced
560
Mitsubishi A6M5 Model 52
Role
Carrier Fighter
Crew
1
Powerplant
1x Nakajima Sakae 21 (1,130hp)
Speed
230mph (cruise)
351mph (max)
Ceiling
38,520ft
Range
1,171 miles (internal)
Armament
2x Type 97 7.7mm Machine Gun
2x Type 99 20mm Cannon

Ordnance
265lb bombs
Dimensions
29ft 11in (length)
36ft 1in (wingspan)
11ft 6in (height)
Wing Area
230 sq.ft.
Weight
4,136lb (empty)
6,510lb (max)
Number produced
747
Mitsubishi A6M5a
Role
Fighter
Crew
1
Powerplant
1x Nakajima Sakae 21 (1,130hp)
Speed
348mph (max)
Ceiling
38,520ft
Range
1,194 miles (internal)
Armament
2x Type 97 7.7mm Machine Gun
2x Type 99 20mm Cannon

Ordnance
Dimensions
0ft 0in (length)
0ft 0in (wingspan)
0ft 0in (height)
Weight
Number produced
391
Mitsubishi A6M7
Role
Carrier Fighter
Crew
1
Powerplant
1x Nakajima Sakae 31 (1,210hp)
Speed
Ceiling
0ft
Range
Armament
2x Type 99 20mm Cannon
3x Type 3 13.2mm Machine Gun

Ordnance
Dimensions
29ft 11in (length)
36ft 1in (wingspan)
11ft 6in (height)
Wing Area
229 sq.ft.
Weight
6,495lb (gross)

Be the first to comment