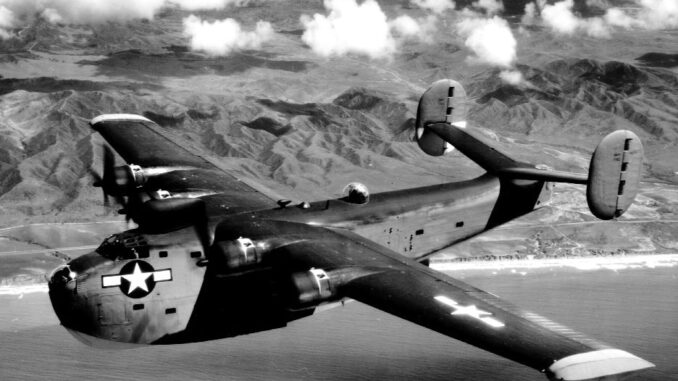 With the first versions of the PBY Catalina beginning to be supplied to the Navy in 1935, attention turned to potential successor machines with better performance. Both Sikorsky and Consolidated were solicited for proposals, and although the Sikorsky model was ready first it was the PB2Y which would win the production contract. The prototype XPB2Y-1 was ready for its first flight by December 1937, and despite several issues was preferred to Sikorsky's XPBS-1.
The PB2Y shared some innovations from the XP3Y/PBY, most notably the retractable floats, but was otherwise a completely new design. It was a very large aircraft, equipped with four R-1830 engines – unusually on later models these were fitted with 4-bladed propellers inboard, and 3-bladed outboard. The PB2Y originally had a single large tail, but there were problems with directional instability so additional stabilizers were added in an attempt to remedy the problem. This failed to solve the problem and instead a completely new twin tail was designed. Bomb bays were located in the wing roots with fittings for bombs, torpedoes or mines.
The first production machines entered service in late 1940. In squadron service the PB2Y was found to be underpowered, particularly the definitive PB2Y-3 version which had self-sealing fuel tanks and crew armour which added considerable weight. As a result the Coronados were primarily used as transports instead of combat aircraft. VP-13, the original PB2Y operator, established a series of services across the Pacific including a route from Hawaii to Rose Bay, Sydney, Australia – a 4,000 mile one way trip. Additional routes were added to other bases across the South Pacific and beyond as the Central Pacific offensive opened in late 1943. Some PB2Ys were converted into hospital aircraft and employed ferrying wounded servicemen back to Hawaii from forward garrisons, particularly Tarawa.
The PB2Y's brief career as a combat aircraft began in January 1944, when VP-13 and VP-102 were assigned to strike Wake Island in support of the Marshall Islands campaign. 14 PB2Ys staged from Midway and carried out four raids between January 30 and February 9. 50 tons of bombs were dropped on Wake, but no PB2Ys were lost during any of the 2,100 mile missions. The missions were considered so important that the commanding officer of Fleet Air Wing 2, RAdm John D. Price, flew on two of the raids as an observer. In April 1944 a detachment of radar-equipped PB2Ys from VP-13 flew from Eniwetok, dropping mines in the seas around Truk, but the externally mounted mines badly effected the performance of the aircraft. The same detachment later flew harassment bombing raids on bypassed islands in the Marshalls, as well as anti-submarine patrols. During this time there were occasional contacts with Japanese aircraft, and VP-13 claimed five Japanese bombers shot down.
Thereafter the PB2Y reverted back to non-combat roles. The PB2Y-5R was a dedicated transport version, and it was used by several high-ranking officers including Admiral Chester W. Nimitz. The aircraft belonging to Nimitz was one of the first to arrive in Tokyo Bay for the signing of the Japanese surrender in September 1945.
10 PB2Y-3s were provided to the RAF via lend-lease, but they were not popular as patrol aircraft due to their relatively short range. Instead, like the Americans, the British assigned them secondary roles with RAF Transport Command operating them on transatlantic routes.