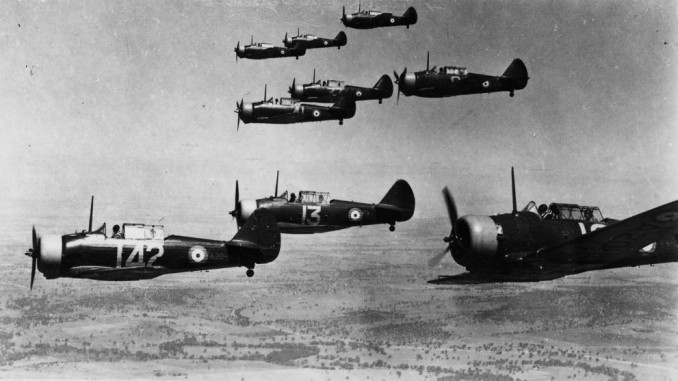 The CAC Wirraway was a license-built version of the North America NA-16/AT-6 Texan advanced training aircraft. A commission had been sent from Australia to the United States in order to select an aircraft that could be produced in Australia, which would reduce the country's reliance on British-built export models. The commission selected the NA-16 because it could easily be modified into a trainer, light bomber and fighter-interceptor.
Production of the aircraft was assigned to the Commonwealth Aircraft Corporation. The basic NA-16 airframe was strengthened and dive brakes added to allow the new Wirraway to be used as a dive bomber. Forward-firing armament was doubled from one to two rifle-calibre machine guns, with a third also positioned on a flexible mount in the rear cockpit for the observer. Internal equipment was switched from American to British standards to accommodate the needs of the Royal Australian Air Force.
Wirraways were stationed far and wide across the islands guarding the northern approaches to Australia when the war broke out. Squadrons were based at Rabaul, New Guinea, and the Dutch East Indies, with some examples later being posted to Singapore as the Japanese took their toll on the defenders of the city. Wirraways were rarely effective as fighters in the face of superior Japanese aircraft, but they were reasonably successful when used as light bombers.
The Wirraway claimed its sole air-to-air victory in December 1942 when Pilot Officer J.S. Archer shot down an A6M Zero over New Guinea. This was the high point of its service, as soon afterwards the RAAF began to receive large numbers of lend-lease aircraft like the P-40 Kittyhawk which began to replace the Wirraway in front-line service. The Wirraway was, however, retained as a second-string aircraft until the end of the war.
CAC Wirraway Specifications
CAC Wirraway
Role
General purpose
Crew
2
Powerplant
1x Pratt & Whitney R-1340-21G (550hp)
Speed
182mph (cruise)
220mph (max)
Ceiling
23,000ft
Range
720 miles (internal)
Armament
2x Vickers K

Ordnance
Dimensions
27ft 10in (length)
43ft 0in (wingspan)
8ft 9in (height)
Wing Area
256 sq.ft.
Weight
3,992lb (empty)
6,595lb (gross)

Be the first to comment