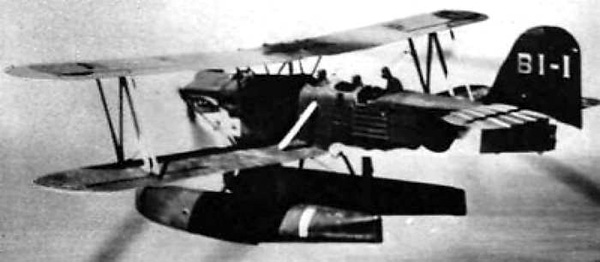 The Kawanishi E7K "Alf", or Type 94 Reconnaissance Seaplane, was designed in response to the 7-Shi requirement specification that also produced the Hiro G2H bomber. The aircraft was to be operated from smaller Japanese warships whilst the larger E8N Type 95 flew from battleships, heavy cruisers and seaplane tenders.
The E7K1 was equipped with a Hiro Type 91 W-12 engine, which proved just as unreliable as the other Hiro engine designs such as those that equipped the G2H. The later E7K2 was re-engined with the more powerful and much more reliable Mitsubishi Zuisei 11 engine. In configuration the E7K was a biplane with equal-span wings with a fabric covering, and a large central float supported by smaller outriggers. The crew of 3 consisted of a pilot, radioman and gunner.
The E7K's engine problems kept the type out of front line service until the E7K2 became available in large numbers in 1938. Consequently the E8N was required to bear the brunt of Navy reconnaissance missions during the Battle of Shanghai. Later, the E7K flew in support of the Japanese conquest of the South Seas, particularly in the Philippines and the Dutch East Indies. By 1943 the E7K was being withdrawn from service as the Aichi E13A "Jake" began to replace it. Later in the war some E7Ks were expended as kamikazes during the Battle of Okinawa.
The E7K was assigned the Allied reporting name "Alf" in 1942.
Kawanishi E7K Type 94 Specifications
Kawanishi E7K1
Role
Reconnaissance seaplane
Crew
3
Powerplant
1x Hirosho Type 91 (520hp)
Speed
148mph (max)
Ceiling
23,165ft
Range
Armament
3x Type 92 7.7mm Machine Gun

Ordnance
265lb bombs
Dimensions
34ft 9in (length)
46ft 8in (wingspan)
15ft 9in (height)
Wing Area
469 sq.ft.
Weight
4,343lb (empty)
6,614lb (gross)

Number produced
183
Kawanishi E7K2
Role
Reconnaissance seaplane
Crew
3
Powerplant
1x Mitsubishi Zuisei 11 (925hp)
Speed
115mph (cruise)
171mph (max)
Ceiling
23,165ft
Range
Armament
3x Type 92 7.7mm Machine Gun

Ordnance
265lb bombs
Dimensions
34ft 6in (length)
45ft 11in (wingspan)
15ft 11in (height)
Wing Area
469 sq.ft.
Weight
4,630lb (empty)
7,275lb (gross)

Number produced
347
Be the first to comment