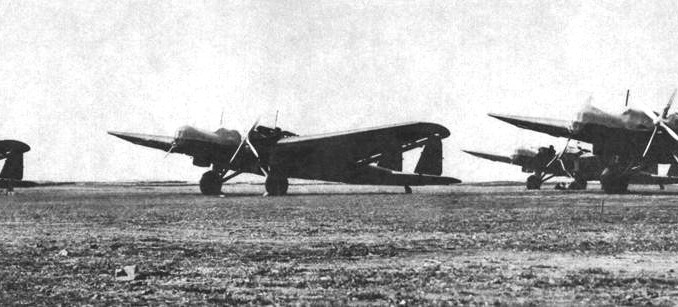 The Hiro G2H was one of only two successful designs to emerge from a 1932 program to modernise the IJNAF (the other being the Kawanishi E7K Type 94 "Alf"). The "Navy Experimental 7-Shi Attack Bomber" was a land-based bomber, designed to support and augment carrier-based air forces over the vast reaches of the Pacific Ocean. Having been accepted into production as the Hiro G2H Type 95 Heavy Bomber, production began in 1935.
Immediately, there were problems. The G2H's engines, Hiro Type 94 W-18s, were themselves a new design and proved extremely unreliable. They were amongst the most powerful engines Japan was then capable of producing but still proved inadequate for a bomber of the G2H's size, especially when it was fully loaded. The G2H also had such obsolescent features as fixed landing gear and fixed-pitch, wooden propellers, that would limit its utility in any modern war. Production was therefore cancelled after the prototype and 7 production G2Hs were completed, although one was lost during testing.
Heavy losses amongst Mitsubishi G3M crews during the initial stages of the 'China Incident' prompted the use of the handful of G2Hs in that conflict. The remaining aircraft were assigned to the Kisarazu Kokutai and flown to the Korean island of Cheju-Do, although one was lost after ditching in Sagami Bay. From here, the big bombers flew many sorties over Shanghai and Nanking, where they miraculously suffered no losses to Chinese fighters or anti-aircraft fire. The big bombers were tasked with dropping their heavy loads on towns and villages thought to be concealing Chinese troops as the Japanese Army gradually advanced.
Unfortunately the good fortune experienced by the Type 95s was not to last. On the 24th of October 1937, as engines were being started one of the G2Hs exploded. The resulting fire quickly spread to other aircraft until four had been destroyed and a fifth badly damaged. The sole remaining G2H continued to fly over China until it was itself badly damaged by anti-aircraft fire on the 29th of October and forced to crash-land at Wangpin airfield in Shanghai.
Hirosho G2H Type 95 Specifications
Hirosho G2H1
Role
Land-based bomber
Crew
6 or 7
Powerplant
2x Hirosho Type 94 (900hp)
Speed
152mph (max)
Ceiling
16,830ft
Range
967 miles (internal)
Armament
5x Type 92 7.7mm Machine Gun

Ordnance
3,307lb bombs
Dimensions
66ft 1in (length)
103ft 11in (wingspan)
20ft 7in (height)
Wing Area
1507 sq.ft.
Weight
16,682lb (empty)
24,250lb (gross)

Number produced
8
Be the first to comment