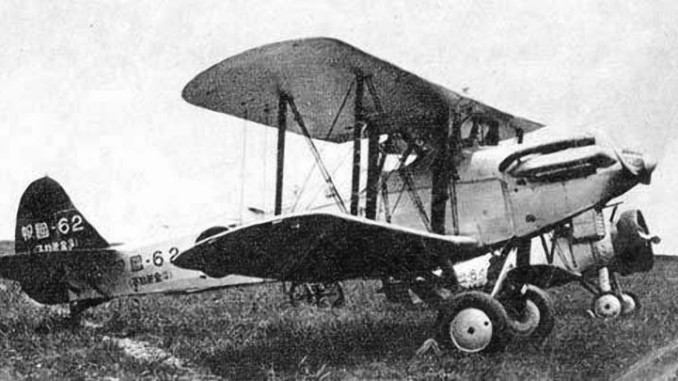 In 1932 the Japanese Navy issued its 7-Shi requirements for a new torpedo bomber, to replace the B2M Type 89. Initially both Nakajima, with their B3N, and Mitsubishi, with their B3M, responded. Both designs proved to be failures: the B3N suffered from the poor reliability of its Hikari engine, and the single B3M prototype was destroyed in a crash. The naval air arsenal at Yokosuka started their design later than the other manufacturers and consequently the Yokosuka B3Y proved more reliable, and was accepted for service as the Type 92 Carrier Attack Bomber.
The B3Y was constructed of tubular steel with a fabric covering for the fuselage, and was equipped with wooden wings that hinged and could be folded backwards to reduce space requirements on aircraft carriers. It was powered by the Hiro Type 91 W-12 engine, which proved to be as unreliable as the Hikari and as a result the number produced was low – just 129 in total during a 3 year production run.
In service the B3Y was assigned to the 12th Kokutai, which used the type along with its D1A bombers and A4N fighters during the Battle of Shanghai. The type proved relatively successful and was considered to be a stable and accurate bombing platform. However by 1937 the B3Y's successors, the B4Y and B5N, were already either in service or being prepared for service and as a result the Type 92 was only to see action briefly.
Yokosuka B3Y1 Type 92
Role
Carrier attack bomber
Crew
3: pilot, radioman, gunner
Powerplant
1x Hiro Type 91 W-12, 600hp
Speed (max)
136 mph
Ceiling
16,000ft
Range
Armament
2x 7.7mm machine guns
Ordnance
1 torpedo, or 500kg bombs
Dimensions (L/W/H)
31ft 2in / 44ft 4in / 12ft 3in
Weight (empty/max)
4,087lb / 7,045lb