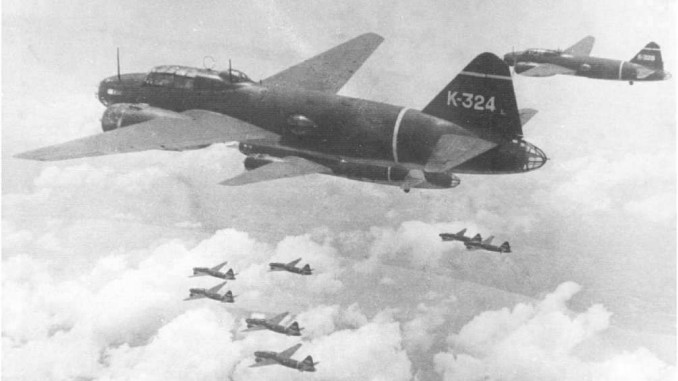 A requirement for a new naval land-based bomber was included in 1937's 12-Shi program, along with the fighter requirements which resulted in the design of the Mitsubishi A6M 'Zero'. Mitsubishi assigned Kiro Honjo, who had led the team that designed the G3M, to produce a bomber design to meet the new requirements.
The design for the Mitsubishi G4M included a number of improvements over the predecessor type, the G3M. Maximum speed and range were to be increased, but defensive armament was largely unchanged with 4 machine guns and a 20mm cannon in the tail. Whereas the G3M carried its bombs externally, the G4M was equipped with a bomb bay capable of holding 1,000kg of bombs or a single Type 91 torpedo. No self-sealing fuel tanks were included, which would make the bomber exceedingly vulnerable to fire.
Deployment of the new bomber was delayed by feedback from the experimental Yokosuka Kokutai, which opined that a long range escort fighter would be more useful over China than a faster bomber. As a result Mitsubishi was ordered to convert the first G4Ms into the G6M1 'Convoy Escort Fighter', with no bomb carrying capability but additional defensive turrets. The G6M proved a failure as it lacked the speed to maintain formation even with the G3M. Ultimately, all the G6Ms were converted into transport aircraft.
The G4M made its combat debut in August 1941 when the Takao Ku attacked Chengdu as part of Operation 102. Thereafter the bomber went on to play a prominent role in the attack on the Philippines and Malaya, where it participated in the sinking of the British ships Prince of Wales and Repulse. The flaws in the type began to become obvious when the G4M began to encounter US Navy fighters such as during the February 1942 attack on the USS Lexington, where the attacking force of 17 bombers of the 4th Ku was almost completely destroyed.
During the battle for Guadalcanal the G4M began to suffer steady losses to the Cactus Air Force, and was not particularly effective in destroying either Allied shipping off the island or Henderson Field. During 1943 it was become clear that aircraft losses were unsustainable, so most of the remaining G4M units began to switch to a pure night-bombing role. In this they had some success against the American carriers that were roaming the Pacific.
Later in the war the G4M, or 'Betty' as it became known to the Allies, was used as a kamikaze aircraft. A number of G4Ms were also used as motherships for the MXY7 suicide rocket plane.
In 1942 the G4M was assigned the Allied Reporting Name 'Betty', allegedly because the blisters evident on the aircraft's fuselage reminded Capt. Frank T. McCoy of the ample proportions of nurse in Australia.
Mitsubishi G4M Type 1 Specifications
Mitsubishi G4M1
Role
Land-based bomber
Crew
7: pilot, co-pilot, navigator/bombardier, radio operator/gunner, three gunners
Powerplant
2x Mitsubishi Kasei 11 (1,410hp)
Speed
197mph (cruise)
265mph (max)
Ceiling
27,890ft
Range
2,664 miles (internal)
Armament
4x Type 97 7.7mm Machine Gun
1x Type 99 20mm Cannon

Ordnance
2,205lb bombs
1 torpedoes
Dimensions
65ft 6in (length)
82ft 0in (wingspan)
19ft 8in (height)
Wing Area
841 sq.ft.
Weight
14,860lb (empty)
20,944lb (gross)
28,350lb (max)
Number produced
1,200
Mitsubishi G4M2
Role
Land-based bomber
Crew
7: pilot, co-pilot, navigator/bombardier, radio operator/gunner, three gunners
Powerplant
2x Mitsubishi Kasei 25 (1,850hp)
Speed
270mph (max)
Ceiling
29,350ft
Range
2,935 miles (internal)
Armament
4x Type 97 7.7mm Machine Gun
2x Type 99 20mm Cannon

Ordnance
2,205lb bombs
1 torpedoes
Dimensions
64ft 4in (length)
82ft 0in (wingspan)
19ft 8in (height)
Wing Area
841 sq.ft.
Weight
17,990lb (empty)
27,557lb (max)
Number produced
1,154
Mitsubishi G4M3
Role
Land-based bomber
Crew
7: pilot, co-pilot, navigator/bombardier, radio operator/gunner, three gunners
Powerplant
2x Mitsubishi Kasei 25 (1,850hp)
Speed
196mph (cruise)
292mph (max)
Ceiling
30,250ft
Range
2,695 miles (internal)
Armament
4x Type 97 7.7mm Machine Gun
2x Type 99 20mm Cannon

Ordnance
2,205lb bombs
1 torpedoes
Dimensions
64ft 0in (length)
82ft 0in (wingspan)
19ft 8in (height)
Wing Area
841 sq.ft.
Weight
18,409lb (empty)
27,558lb (gross)

Number produced
60
Mitsubishi G6M1
Role
Convoy Fighter
Crew
7: pilot, co-pilot, navigator, radio operator/gunner, three gunners
Powerplant
2x Mitsubishi Kasei 11 (1,410hp)
Speed
174mph (cruise)
232mph (max)
Ceiling
29,950ft
Range
2,048 miles (internal)
Armament
4x Type 99 20mm Cannon

Ordnance
Dimensions
65ft 6in (length)
82ft 0in (wingspan)
19ft 8in (height)
Wing Area
841 sq.ft.
Weight
15,432lb (empty)
20,944lb (gross)

Number produced
30
Be the first to comment