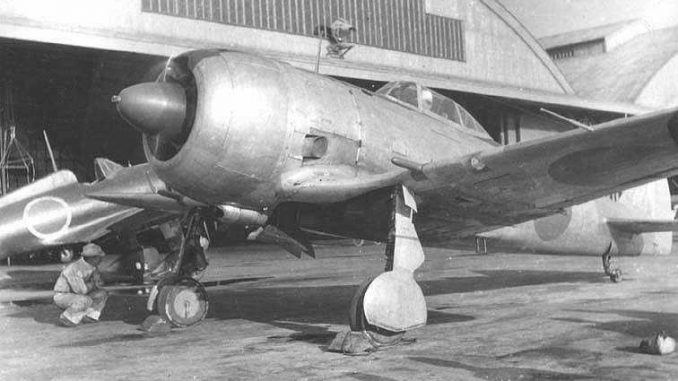 Shortly after Nakajima had received orders for the Ki-43 "Hayabusa" fighter, they were asked to produce a design for a new interceptor fighter. Unusually for a Japanese fighter the need for manoeuvrability was relaxed in favour of greater speed and climb rate, with the requirement stating that an altitude of 4,000m had to be reached in 5 minutes. Sufficient armament had to be carried so that the new plane could destroy modern, all-metal bombers at that altitude.
The designers of the Ki-44 selected the new Nakajima Ha-41 engine, which had originally been designed for bomber aircraft but was just about small enough to fit in the new fighter. It was much more powerful than Ha-25 Sakae engine then installed in Ki-43 and A6M Zero. The wings were relatively small in area, giving the Ki-44 a higher-than-normal wing loading for a Japanese aircraft, but despite this it had satisfactory handling. Revisions to the design of the engine cowling and cooling arrangements improved the early prototype's top speed and allowed the first production models to meet the specified design speed.
Nine pre-production Ki-44s were assigned to the IJAAF for operations over Malaya in late 1941, to evaluate the aircraft in combat conditions. Following successful tests throughout 1942 the Ki-44 was accepted as the Type 2 Single-Seat Fighter. Ki-44s were assigned to locations that were likely to experience Allied bombing raids, such as the captured oil refineries of the Dutch East Indies and later in the war the Home Islands of Japan. Others operated in China and Burma, where they faced increasingly capable bombers such as the B-24 and B-29.
In 1944 the production of Ki-44s was reduced as increasing numbers of Nakajima Ki-84s became available, and by the end of the war very few Sentai were still equipped with the older machines. In 1942 the Ki-44 was assigned the Allied Reporting Name "Tojo" by air intelligence officers in the China-Burma-India theatre.
Specifications:
Nakajima Ki-44-I Type 2 Single Seat Fighter
Role
Single Seat Fighter
Crew
1
Powerplant
1x Nakajima Ha-41, 1,250hp
Speed
249mph (cruise)
360mph (max)
Ceiling
35,500ft
Range
575 miles (internal)
1,070 miles (external)
Armament
2x 7.7mm machine guns, 2x 12.7mm machine guns
Ordnance
Dimensions
29ft 0in (length)
30ft 0in (wingspan)
10ft 3in (height)
Wing Area
162 sq.ft.
Weight
4,396lb (empty)
5,668lb (gross)
6,362lb (max)
Number produced
40
In service with
IJA
Nakajima Ki-44-II Type 2 Single Seat Fighter
Role
Single Seat Fighter
Crew
1
Powerplant
1x Nakajima Ha-109, 1,520hp
Speed
249mph (cruise)
376mph (max)
Ceiling
36,750ft
Range
746 miles (internal)
994 miles (external)
Armament
4x 12.7mm machine guns
Ordnance
Dimensions
29ft 0in (length)
30ft 0in (wingspan)
10ft 3in (height)
Wing Area
162 sq.ft.
Weight
4,643lb (empty)
6,094lb (gross)
6,598lb (max)
Number produced
1,175
In service with
IJA