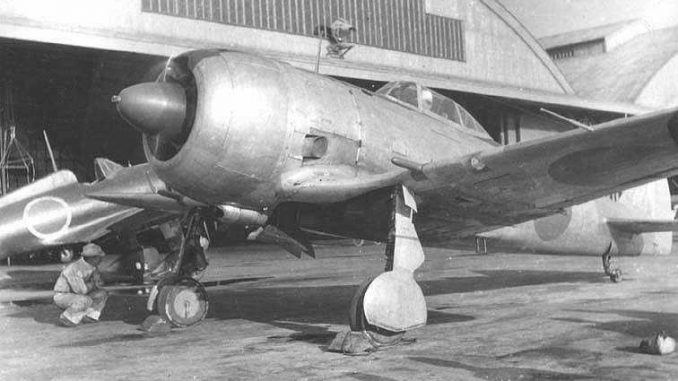 Shortly after Nakajima had received orders for the Ki-43 "Hayabusa" fighter, they were asked to produce a design for a new interceptor fighter. Unusually for a Japanese fighter the need for manoeuvrability was relaxed in favour of greater speed and climb rate, with the requirement stating that an altitude of 4,000m had to be reached in 5 minutes. Sufficient armament had to be carried so that the new plane could destroy modern, all-metal bombers at that altitude.
The designers of the Ki-44 selected the new Nakajima Ha-41 engine, which had originally been designed for bomber aircraft but was just about small enough to fit in the new fighter. It was much more powerful than Ha-25 Sakae engine then installed in Ki-43 and A6M Zero. The wings were relatively small in area, giving the Ki-44 a higher-than-normal wing loading for a Japanese aircraft, but despite this it had satisfactory handling. Revisions to the design of the engine cowling and cooling arrangements improved the early prototype's top speed and allowed the first production models to meet the specified design speed.
Nine pre-production Ki-44s were assigned to the IJAAF for operations over Malaya in late 1941, to evaluate the aircraft in combat conditions. Following successful tests throughout 1942 the Ki-44 was accepted as the Type 2 Single-Seat Fighter. Ki-44s were assigned to locations that were likely to experience Allied bombing raids, such as the captured oil refineries of the Dutch East Indies and later in the war the Home Islands of Japan. Others operated in China and Burma, where they faced increasingly capable bombers such as the B-24 and B-29.
In 1944 the production of Ki-44s was reduced as increasing numbers of Nakajima Ki-84s became available, and by the end of the war very few Sentai were still equipped with the older machines. In 1942 the Ki-44 was assigned the Allied Reporting Name "Tojo" by air intelligence officers in the China-Burma-India theatre.
Nakajima Ki-44 Type 2 Specifications
Nakajima Ki-44-I Shoki
Role
Single Seat Fighter
Crew
1
Powerplant
1x Nakajima Ha-41 (1,260hp)
Speed
249mph (cruise)
360mph (max)
Ceiling
35,500ft
Range
575 miles (internal)
1,070 miles (external)
Armament
2x Ho-103 12.7mm Machine Gun
2x Type 97 7.7mm Machine Gun

Ordnance
Dimensions
29ft 0in (length)
30ft 0in (wingspan)
10ft 3in (height)
Wing Area
162 sq.ft.
Weight
4,396lb (empty)
5,668lb (gross)
6,362lb (max)
Number produced
40
Nakajima Ki-44-II Shoki
Role
Single Seat Fighter
Crew
1
Powerplant
1x Nakajima Ha-109 (1,440hp)
Speed
249mph (cruise)
376mph (max)
Ceiling
36,750ft
Range
746 miles (internal)
994 miles (external)
Armament
4x Ho-103 12.7mm Machine Gun

Ordnance
Dimensions
29ft 0in (length)
30ft 0in (wingspan)
10ft 3in (height)
Wing Area
162 sq.ft.
Weight
4,643lb (empty)
6,094lb (gross)
6,598lb (max)
Number produced
1,175
Nakajima Ki-44-III Shoki
Role
Single Seat Fighter
Crew
1
Powerplant
x Pratt & Whitney R-2800-1 (1,500hp)
Speed
Ceiling
0ft
Range
Armament
4x Ho-1 20mm Cannon

Ordnance
Dimensions
0ft 0in (length)
0ft 0in (wingspan)
0ft 0in (height)
Weight
2 Comments
The Shoki was a reliable fighter unlike all the new designs that followed save the Ki 100. But that one had only around 500 built. Over 1,200 Shokis were built. It deserved to be more. It was just beginning to carry cannons when production stopped. Yet the under-gunned Ki 43 continued. This one had no cannons in combat except for the 15 20mm armed Ki 43-IIs in the 5001st Chutai special attack unit.

The 4x20mm Ho-3 cannon model of the Ki 44-II may not have been produced. These were requested but Nakajima answered with the 40mm recoiless Ho-301 cannons in the wings. This was novel, but range was only 150m! RoF was a rapid 450 r/s but ammo supply was a mere 10 r/g. Thus, fire-time lasted only 1.3 seconds. These shells were akin to mini air-to-air rockets. But instead of 20 rockets under the wings to spoil the aerodynamics, these were in the cannon within a clean wing. Dissatisfied pilots often swapped these out for the standard HMGs to match those in the cowl.

The more conventional 37mm Ho-203 cannon may have been more successful. It had a range of 900m, but M/V was moderate compared to the new higher velocity 37mm Ho-204 which may have been too much recoil for the wings. 900m was plenty for wing-cannons which converge at half that range anyway.
RoF was a slow 120 r/m, so firing time lasted 12.5 sec for 25 r/g of ammo. The 97th may have had a dozen of these interceptors in China.
These reportedly shot down many B-29s. It is of interest that this cannon was also in the plans for the Ki 44-III (which never reached production). The 40mm Ho-301 was not to be carried over to this new model.

The Shoki was a match for most any fighter in vertical tactics. Japanese pilots who appreciated this, were successful even against many later Allied fighters. It could dive well over 500 mph like a Ki 61 but climbed far better. Besides, the Hien was unreliable and lacked the all-around view of the Shoki canopy. The Shoki was also second to none in accurate gunnery. But as an interceptor it had to reach the high altitudes of the B-29s. It could barely do so with some attention by the mechanics. That and the lack of cannons on virtually all Shokis let the newer Raiden surpass it as best interceptor with 4x20mm cannons. But again only 500-600 J2M were produced and they were all less reliable than the Shoki. It couldn't quite dive with the Allied types like the Shoki could either.
The Ki 44 deserved more recognition than it got. Had it packed 4x20s who knows, maybe it would have had twice the number built to counter the B-29s. It's Ki 84 replacement was no better up high and it was unreliable.

The best use of the 40mm cannon Tojo, was against night B-29 raids at lower altitudes. It could get within range more easily without being spotted. Firing into an open bomb bay before the bomb drop, had spectacular results! And the B-29 had 2 of them.