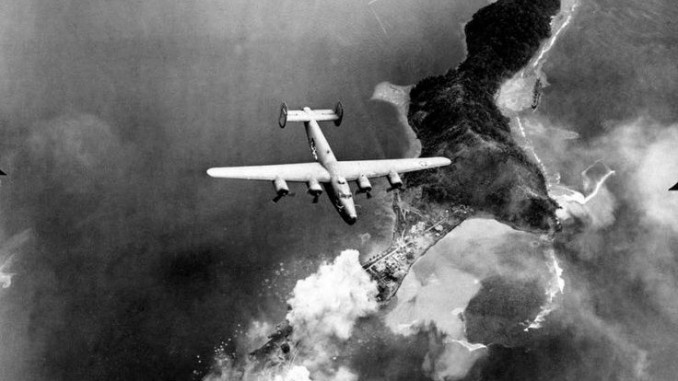 The Consolidated B-24 Liberator was one of the most widely used aircraft of World War II and was the most produced heavy bomber in history, with over 18,000 rolling off the assembly lines. The original design was produced in response to a request for Consolidated to build B-17 Flying Fortresses for the Army Air Force, but company president Reuben Fleet decided to submit a bespoke design for a more modern bomber with twice the bomb load of the Boeing aircraft. The specification was later formalised and the B-24 was ordered.
Unlike the B-17 the B-24 had a slim, shoulder mounted 'Davis' type wing with a double-sized bomb bay underneath the main spar that utilised rolling doors. The tricycle style landing gear was the first to be fitted to an American bomber. Many elements of the aircraft were borrowed from other Consolidated designs – the tail was modified from the PB2Y Coronado, the engine mountings from the PBY Catalina. Initially the bomber was under-armed but later versions would add many more turrets and extra defensive guns.
Gallery
A single B-24 was caught on the ground and destroyed at Pearl Harbor. This machine had been assigned to carry out reconnaissance of the Japanese Mandates but never got the chance. During the scramble to find additional reinforcements for the Pacific, dozens of export model "LB-30s" were requisitioned and despatched to join the 7th Bomb Group during the failed defence of Java.
Later, the B-24 Liberator proved itself to be an indispensable part of the Allied air forces. It became the primary heavy bomber of the AAF, replacing all B-17s in the Pacific by mid-1943. It flew extensive bombing missions during the New Guinea campaign with the 5th Air Force, and was the main heavy bomber of the 10th and 14th Air Forces in China and Burma and of the 11th Air Force in the Aleutians. Hundreds of Liberators were also supplied to the Royal Air Force which used them throughout the world, including during the India-Burma campaign.
A deal was struck to allow the Navy to buy B-24s, which were re-designated PB4Y Liberators. These were used to carry out long-range patrol missions throughout the Pacific as the Central Pacific offensive unfolded. A number were also assigned to Marine photo-reconnaissance units, which carried out daring photography missions over Japanese bases such as Truk.
B-24s were also converted to transports as the C-87 'Liberator Express' and as the dedicated C-109 tanker version.
Consolidated B-24 Liberator Specifications
Consolidated B-24A Liberator
Role
Heavy Bomber
Crew
10
Powerplant
4x Pratt & Whitney R-1830-33 (1,200hp)
Speed
228mph (cruise)
293mph (max)
Ceiling
30,500ft
Range
2,200 miles (internal)
4,000 miles (external)
Armament
6x Browning M2 .50cal Machine Gun

Ordnance
8,000lb bombs
Dimensions
63ft 9in (length)
110ft 0in (wingspan)
18ft 8in (height)
Wing Area
1048 sq.ft.
Weight
30,000lb (empty)
39,350lb (gross)
53,600lb (max)
Number produced
9
Consolidated B-24C Liberator
Role
Heavy Bomber
Crew
10
Powerplant
4x Pratt & Whitney R-1830-41 (1,200hp)
Speed
313mph (max)
Ceiling
34,000ft
Range
2,100 miles (internal)
3,560 miles (external)
Armament
6x Browning AN-M2 .30cal Machine Gun

Ordnance
8,799lb bombs
Dimensions
63ft 9in (length)
110ft 0in (wingspan)
18ft 8in (height)
Wing Area
1048 sq.ft.
Weight
32,050lb (empty)
41,000lb (gross)
56,000lb (max)
Number produced
9
Consolidated B-24D Liberator
Role
Heavy Bomber
Crew
10
Powerplant
4x Pratt & Whitney R-1830-43 (1,200hp)
Speed
200mph (cruise)
303mph (max)
Ceiling
32,000ft
Range
2,300 miles (internal)
3,500 miles (external)
Armament
8x Browning M2 .50cal Machine Gun

Ordnance
8,799lb bombs
Dimensions
66ft 4in (length)
110ft 0in (wingspan)
17ft 11in (height)
Wing Area
1048 sq.ft.
Weight
32,605lb (empty)
55,000lb (gross)
64,000lb (max)
Number produced
2,738
Consolidated B-24G Liberator
Role
Heavy Bomber
Crew
Powerplant
4x Pratt & Whitney R-1830-65 (1,200hp)
Speed
Ceiling
0ft
Range
Armament
8x Browning M2 .50cal Machine Gun

Ordnance
Dimensions
0ft 0in (length)
0ft 0in (wingspan)
0ft 0in (height)
Weight
Number produced
430
Consolidated B-24J Liberator
Role
Heavy Bomber
Crew
10
Powerplant
4x Pratt & Whitney R-1830-65 (1,200hp)
Speed
200mph (cruise)
300mph (max)
Ceiling
28,000ft
Range
2,100 miles (internal)
Armament
10x Browning M2 .50cal Machine Gun

Ordnance
12,798lb bombs
Dimensions
67ft 2in (length)
110ft 0in (wingspan)
18ft 0in (height)
Wing Area
1048 sq.ft.
Weight
36,500lb (empty)
56,000lb (gross)
71,200lb (max)
Number produced
6,678
Consolidated B-24M Liberator
Role
Heavy Bomber
Crew
10
Powerplant
4x Pratt & Whitney R-1830-65 (1,200hp)
Speed
215mph (cruise)
300mph (max)
Ceiling
28,000ft
Range
2,100 miles (internal)
Armament
10x Browning M2 .50cal Machine Gun

Ordnance
12,798lb bombs
Dimensions
67ft 2in (length)
110ft 0in (wingspan)
18ft 0in (height)
Wing Area
1048 sq.ft.
Weight
36,000lb (empty)
64,500lb (gross)

Number produced
2,593
Consolidated LB-30 Liberator
Role
Heavy Bomber
Crew
10
Powerplant
4x Pratt & Whitney R-1830-33 (1,200hp)
Speed
263mph (max)
Ceiling
24,000ft
Range
2,200 miles (internal)
4,000 miles (external)
Armament
6x Browning M2 .50cal Machine Gun

Ordnance
8,001lb bombs
Dimensions
66ft 4in (length)
110ft 0in (wingspan)
18ft 0in (height)
Wing Area
1048 sq.ft.
Weight
30,000lb (empty)
39,350lb (gross)
53,600lb (max)
Number produced
46
Consolidated XB-41 Liberator
Role
Gunship
Crew
9
Powerplant
4x Pratt & Whitney R-1830-43 (1,200hp)
Speed
289mph (max)
Ceiling
28,500ft
Range
3,100 miles (internal)
Armament
14x Browning M2 .50cal Machine Gun

Ordnance
Dimensions
66ft 4in (length)
110ft 0in (wingspan)
17ft 11in (height)
Weight
63,000lb (max)
Number produced
1
Be the first to comment