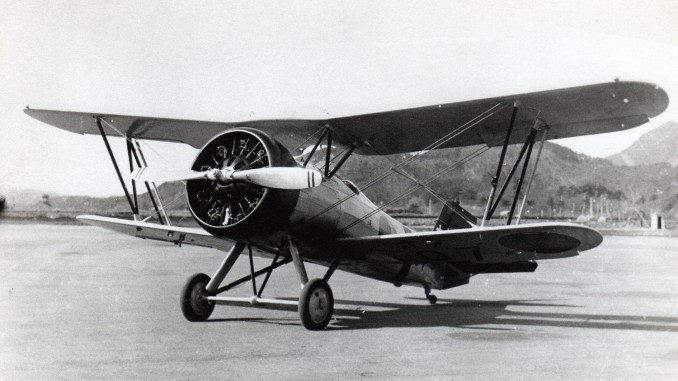 The Nakajima A4N was a development of the company's earlier A2N biplane fighter, and was intended to improve that aircraft so that it could serve as an adequate stopgap until better, more modern fighters like the A5M could be produced in enough numbers. The Nakajima A4N was equipped with a more powerful Nakajima Hikari 1 engine of 730hp in place of the A2N's Kotobuki, which could only produce 580hp. As a result, top speed improved markedly to well over 200mph whilst range also increased, although the operating ceiling was reduced by several thousand feet.
Otherwise the overall configuration of the A4N was very similar to its predecessor. It retained the unequal-length biplane wings of the earlier type as well as the standard fighter armament of a pair of 7.7mm machine guns. The Hikari engine did prove to be more troublesome and as a result the type did not go into full production as the Type 95 carrier fighter until 1936, by which time the A5M was already being produced. In total only 221 A4Ns were produced before attention switched to later designs, leaving it with the distinction of being the last biplane fighter to be accepted by the Navy.
A4Ns equipped several carriers at the start of the Sino-Japanese War, having some success against the Chinese Hawks that were commonly found in Central China. Most of the carrier based examples were quickly replaced by the first production A5Ms during the first weeks and months of the conflict. A4Ns did, however, continue to serve with the land-based 12th Kokutai during the Battle of Shanghai and the subsequent push west from Nanking through to Hankow. As the Chinese began to re-equip with more modern fighters like the Soviet I-16, the last remaining examples were removed from service in favour of the more competitive A5M.
Nakajima A4N Type 95 Specifications
Nakajima A4N1
Role
Carrier Fighter
Crew
1
Powerplant
1x Nakajima Hikari 1 (820hp)
Speed
145mph (cruise)
219mph (max)
Ceiling
25,400ft
Range
457 miles (internal)
Armament
2x Type 92 7.7mm Machine Gun

Ordnance
265lb bombs
Dimensions
21ft 9in (length)
32ft 10in (wingspan)
10ft 1in (height)
Wing Area
246 sq.ft.
Weight
2,813lb (empty)
3,880lb (gross)

Number produced
221
Be the first to comment