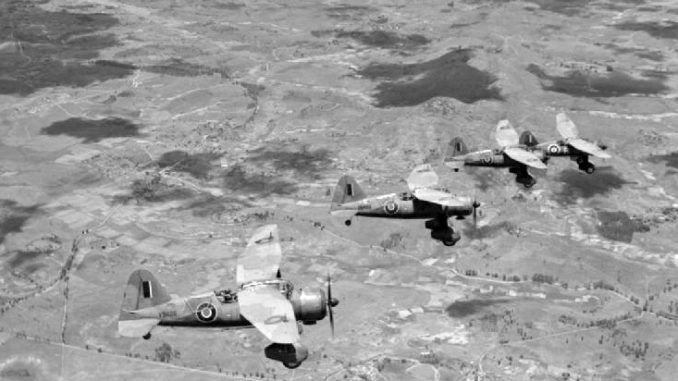 In 1934 the RAF began to search for a replacement for the Hawker Hector in the 'army co-operation' role – conducting reconnaissance and artillery spotting for the British Army. The Hector was inadequate in the role and had only been intended as an interim model. The requirements placed an emphasis on good pilot visibility, short field performance and good overall flying characteristics.
The winning design, produced by Westland, was a high-winged monoplane, with a cockpit configured to give good all-round visibility for the 2 crew. In photographs the wing appears to be of the 'gull' type, but this is an optical illusion. The wings were in fact straight, but with an unusual combination of straight and tapered leading- and trailing-edges. A small space was available in the rear for carrying one passenger, or a small amount of cargo. Small winglets could be attached to wheel spats, allowing for bombs or supply canisters to be carried. The Lysander, as the type was named, was capable of very short takeoff and landing runs due to its excellent low-speed characteristics.
By the time that the Pacific War broke out, most of the older Mark I Lysanders had been sent to the Middle East and to India. These were used as a light bombers during the vain attempt to slow down the Japanese advance through Burma in early 1942, and several were burned on the ground to prevent them from being captured as the offensive rapidly overtook the British.
Six Lysanders of 443 Army Co-operation Flight flew off from the carriers Illustrious and Indomitable during the invasion of Madagascar in May 1942, with one of their number being shot down by Vichy French aircraft during the operation. Lysanders also operated in support of the Chindits, flying in supplies and evacuating wounded soldiers. The short field capabilities of the aircraft allowed the Lysander to land in small jungle clearings, which made it ideal for supporting Wingate's force.
The Indian Air Force also operated a number of Lysanders during the India-Burma campaign, with the type being assigned to 1, 2, 4 and 104 Squadrons. This made the Lysander one of the first modern aircraft to be operated by the Indians.
Westland Lysander Specifications
Westland Mk I Lysander
Role
Liaison
Crew
2
Powerplant
1x Bristol Perseus XII (905hp)
Speed
Ceiling
0ft
Range
Armament
Ordnance
Dimensions
0ft 0in (length)
0ft 0in (wingspan)
0ft 0in (height)
Weight
Westland Mk III Lysander
Role
Liaison
Crew
2
Powerplant
1x Bristol Mercury XX (810hp)
Speed
Ceiling
0ft
Range
Armament
Ordnance
Dimensions
0ft 0in (length)
0ft 0in (wingspan)
0ft 0in (height)
Weight
Number produced
350
Be the first to comment