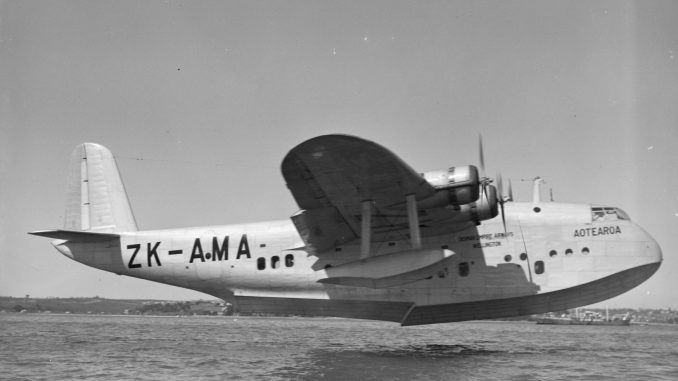 In 1935 Imperial Airways, the British- government-backed service for air travel to the Empire, issued a requirement for a medium range flying boat capable of carrying up to 24 passengers, plus airmail and freight, at 170mph over a 700-mile range for European service or 2,000-mile range for Transatlantic crossings. These requirements were considered a tall order for the technology of the age, and it was clear that only a flying boat could hope to meet them. Short Brothers, a company with a great deal of experience building flying boats, created a design but was not allowed time to build a prototype – Imperial placed an order in 1935 for 28 aircraft, straight off the drawing board.
The new aircraft, called the S.23 'Empire' by Short but known as the C-Class to Imperial passengers, was developed and manufactured in parallel with the military Short Sunderland, with some design cues taken from the Short Scion Senior aircraft that served as a partial, half-size prototype. To keep the propellers of the four engines clear of the water whilst taxiing, the Empire was designed as a high-wing monoplane. A new design for the bottom of the hull provided a low-drag form that limited the takeoff run of the big aircraft. Also included was a new, Short-patented, type a flap mechanism which allowed a large increase of lift at low speed with only a small increase in drag. Four Bristol Pegasus engines provided the necessary power and range.
The first 25 Empires, all given names beginning with C by Imperial, were delivered by early 1938, whilst the final 3 aircraft of the order were instead delivered to Qantas of Australia, an Imperial partner. Imperial themselves ordered a further 11 aircraft and Qantas and additional 3 in late 1937, some of which were to an improved design called the S.30. These S.30s had less powerful but more efficient Bristol Perseus engines, but were otherwise largely the same as the previous S.23s.
When the war broke out in 1939 the usefulness of these large transport aircraft in a military capacity was obvious, and most were impressed into military service by their respective Commonwealth nations. S.23s were used as auxiliary patrol aircraft to cover the approaches to Australia and New Zealand, where in 1940 they sought out German merchant cruisers. On the 30th of January 1942, the Qantas S.23 Corio (G-AEUH) was shot down by several Japanese Zero fighters as it attempted to evacuate refugees from Timor in the Netherlands East Indies, with 13 out of the 18 passengers and crew killed. The following month, on the 28th of February 1942, her sister S.23 Circe (G-AETZ) vanished without trace during an evacuation flight from Java – years later it was established that she was shot down by a Japanese G4M patrol bomber. In April 1942 Camilla (G-AEUB) crashed at Port Moresby, although there were no fatalities.
Short S.23 Empire Specifications
Short Mk I
Role
5
Crew
Powerplant
4x Bristol Pegasus XC (900hp)
Speed
165mph (cruise)
200mph (max)
Ceiling
20,000ft
Range
760 miles (internal)
Armament
Ordnance
Dimensions
88ft 0in (length)
114ft 0in (wingspan)
31ft 10in (height)
Wing Area
1500 sq.ft.
Weight
Number produced
27
Short S.30 Mk I
Role
Crew
Powerplant
4x Bristol Perseus XIIC (815hp)
Speed
Ceiling
0ft
Range
Armament
Ordnance
Dimensions
0ft 0in (length)
0ft 0in (wingspan)
0ft 0in (height)
Weight
Number produced
1
Be the first to comment