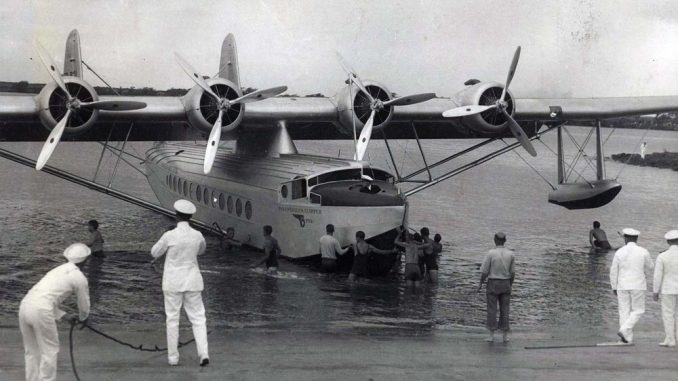 In 1931 Pan Am president Juan Trippe solicited designs from six different companies for an aircraft to fly long distance, transoceanic passenger and airmail routes. Of the six companies, only Martin with their ambitious M-130 and Sikorsky with the S-42 responded. Due to nature of the undeveloped locations in South America and across the Pacific which comprised the stopover ports-of-call, only a flying boat design would be capable of flying the routes.
The Sikorsky S-42 was a major improvement over the company's previous flying boat, the S-40. It was much more streamlined than its predecessor, with fewer struts and braces. The bizarre outrigger arrangement of the S-40's empennage was dispensed with as well, with the S-42 sporting a conventional twin tail. Unfortunately despite these improvements the S-42 proved unable to meet the original specification, falling short of the desired 2,500-mile range requirement in its regular configuration.
The 10 S-42s delivered to Pan Am were therefore restricted to flying routes to the Caribbean and South America, where the short-legged nature of the aircraft was less of a concern. They flew routes such as those between Miami and Rio de Janeiro, New York and Bermuda, and later Seattle and Alaska. The lucrative trans-Atlantic routes were largely closed to Pan Am, which was forced to concentrate on Caribbean and South American markets.
When Pan Am was seeking to begin trans-Pacific flights, a stripped-down S-42 with additional fuel tanks was used to survey routes between the key stopover points of Hawaii, Wake Island and Guam. The initial pioneering flight to Manila occurred in April 1935. With the M-130s handling the San Francisco to Manila service, an S-42 was assigned to the Manila to Hong Kong leg to finally link China and the United States by air.
Three S-42s were lost in accidents before the war began. During the Japanese attack on the British colony of Hong Kong on the 8th of December 1941, a Pan Am S-42B was destroyed on the water at Kai-Tak by strafing Ki-27 fighters. One of the remaining aircraft was acquired by the US Navy and used as a transport.
Sikorsky S-42 Specifications
Sikorsky S-42
Role
Transport
Crew
4
Powerplant
4x Pratt & Whitney R-1690-11 (775hp)
Speed
170mph (cruise)
182mph (max)
Ceiling
15,700ft
Range
1,200 miles (internal)
3,000 miles (external)
Armament
Ordnance
Dimensions
67ft 8in (length)
114ft 2in (wingspan)
21ft 9in (height)
Wing Area
1330 sq.ft.
Weight
19,764lb (empty)
38,000lb (gross)

Number produced
10
Be the first to comment