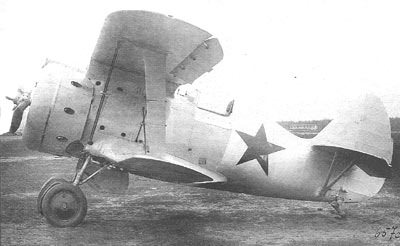 The Polikarpov I-153 was designed to improve on the performance of the I-15 whilst retaining the manoeuvrability inherent to biplane designs. Soviet doctrine of the time required a mixed for of fast monoplanes like the I-16 combined with slower but more agile biplanes. The I-153 to be one of the best biplane fighters ever produced, albeit at a time when monoplanes were proving to be superior in most respects.
The I-153 took the basic design of the I-15bis, but returned to using a gull configuration for the upper wing. The most obvious change was the introduction of retractable landing gear, which could be winched into the raised position using a hand crank in the cockpit. Armament was also improved, the PV machines gun of the I-15 replaced by much faster firing 7.62 ShKAS machine guns, with four in total fitted.
The I-153 was introduced into combat during the Nomonhan Incident, where it often surprised Japanese Ki-27 pilots who mistook it for the older I-15. I-153s were therefore able to give a good account of themselves, proving to be an even match for the monoplane Nakajimas and helping to win the conflict for the Soviets. I-153s were also supplied to China, where they were used to defend Chinese cities from Japanese bombers. Soon however they would meet the advanced A6M 'Zero' which proved superior to all available fighters in the Chinese Air Force, including the I-153.
Polikarpov I-153 Specifications
Polikarpov I-153
Role
Fighter
Crew
1
Powerplant
1x Shvetsov M-62 (801hp)
Speed
185mph (cruise)
276mph (max)
Ceiling
35,100ft
Range
290 miles (internal)
Armament
4x ShKAS 7.62mm Machine gun

Ordnance
Dimensions
20ft 3in (length)
32ft 10in (wingspan)
9ft 2in (height)
Wing Area
238 sq.ft.
Weight
3,201lb (empty)
4,321lb (gross)
4,652lb (max)
Be the first to comment