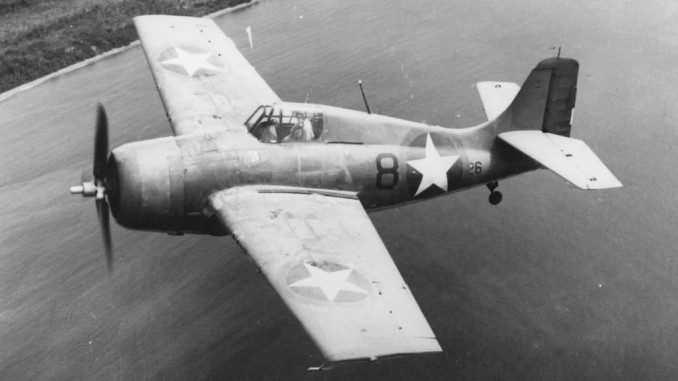 The Grumman F4F Wildcat was the workhorse fighter of the US Navy in the first 18 months of the Pacific War. Designed as part of the competition for the Navy's first monoplane fighter which was won by the Brewster F2A, the F4F was kept on as insurance in case the inexperienced Brewster company failed to deliver a workable aircraft. In the end the F2A failed to meet expectations but the F4F proved to be a solid fighter, and would equip most of the Navy's front line squadrons when war broke out.
The F4F was descended from Grumman's series of successful biplane fighters, and included a number of features that pointed to this lineage. It had the same landing gear system as the F3F biplane, that had to be retracted by hand with the pilot turning a handle through 28 revolutions to completely raise and lock the gear – this whilst controlling the fighter after launch. Initial versions included an armament of four .50cal machine guns, but this was increased to six in the definitive F4F-4, which also introduced folding wings – both developments that were less than welcome due to the added weight which did nothing for the fighter's performance against the nimble A6M Zero.
Gallery
The F4F Wildcat was in action right from the start of the Pacific War, as a number were shot down in friendly fire incidents over Pearl Harbor on the day of the Japanese attack. A small Marine Wildcat squadron based at Wake Island was wiped out in two weeks of fighting despite the best efforts of the garrison's ground crew to keep their fighters flying. In mid-1942 the Wildcat played a key role in the battles of Coral Sea and Midway, where it put up a credible performance against the Zero as superior teamwork nullified the Japanese fighter's superior agility. Marine and Navy Wildcat pilots then fought a brutal war of attrition in the skies over Guadalcanal, seeking to deny the crucial Henderson Field to the Japanese. This they accomplished admirably.
Throughout 1943 the Wildcat was gradually replaced in front line service by more capable machines like the F4U Corsair and the F6F Hellcat. Still, the Wildcat was considered important enough that production was expanded – Grumman handed over responsibility for producing the fighter to General Motor's Eastern Aircraft Division, which product thousands of the re-designated FM Wildcat. These flew from small escort carriers during the amphibious offensive that took the US Navy across the Pacific to the shores of Japan itself.
Grumman F4F Wildcat Specifications
Grumman F4F-3 Wildcat
Role
Fighter
Crew
1
Powerplant
1x Pratt & Whitney R-1830-76 (1,200hp)
Speed
198mph (cruise)
329mph (max)
Ceiling
32,600ft
Range
816 miles (internal)
1,800 miles (external)
Armament
4x Browning M2 .50cal Machine Gun

Ordnance
200lb bombs
Dimensions
28ft 9in (length)
38ft 0in (wingspan)
11ft 10in (height)
Wing Area
260 sq.ft.
Weight
5,293lb (empty)
7,467lb (gross)
8,152lb (max)
Number produced
285
Grumman F4F-3A Wildcat
Role
Fighter
Crew
1
Powerplant
1x Pratt & Whitney R-1830-90 (1,200hp)
Speed
156mph (cruise)
317mph (max)
Ceiling
34,300ft
Range
920 miles (internal)
1,585 miles (external)
Armament
4x Browning M2 .50cal Machine Gun

Ordnance
200lb bombs
Dimensions
28ft 9in (length)
38ft 0in (wingspan)
11ft 10in (height)
Wing Area
260 sq.ft.
Weight
5,216lb (empty)
6,876lb (gross)
8,026lb (max)
Number produced
95
Grumman F4F-4 Wildcat
Role
Fighter
Crew
1
Powerplant
1x Pratt & Whitney R-1830-86 (1,200hp)
Speed
190mph (cruise)
320mph (max)
Ceiling
33,700ft
Range
830 miles (internal)
1,275 miles (external)
Armament
6x Browning M2 .50cal Machine Gun

Ordnance
200lb bombs
Dimensions
28ft 9in (length)
38ft 0in (wingspan)
11ft 10in (height)
Wing Area
260 sq.ft.
Weight
5,760lb (empty)
7,964lb (gross)
8,762lb (max)
Number produced
1,169
Grumman F4F-7 Wildcat
Role
Fighter
Crew
1
Powerplant
1x Pratt & Whitney R-1830-76 (1,200hp)
Speed
130mph (cruise)

Ceiling
0ft
Range
3,700 miles (internal)
Armament
Ordnance
Dimensions
28ft 9in (length)
38ft 0in (wingspan)
11ft 10in (height)
Wing Area
260 sq.ft.
Weight
Number produced
21
Grumman FM-1 Wildcat
Role
Fighter
Crew
1
Powerplant
1x Pratt & Whitney R-1830-86 (1,200hp)
Speed
191mph (cruise)
320mph (max)
Ceiling
34,000ft
Range
838 miles (internal)
1,280 miles (external)
Armament
4x Browning M2 .50cal Machine Gun

Ordnance
200lb bombs
Dimensions
28ft 9in (length)
38ft 0in (wingspan)
11ft 10in (height)
Wing Area
260 sq.ft.
Weight
5,760lb (empty)
7,975lb (gross)
8,762lb (max)
Number produced
839
Grumman FM-2 Wildcat
Role
Fighter
Crew
1
Powerplant
1x Wright R-1820-56 (1,350hp)
Speed
164mph (cruise)
332mph (max)
Ceiling
34,700ft
Range
900 miles (internal)
1,310 miles (external)
Armament
4x Browning M2 .50cal Machine Gun

Ordnance
500lb bombs
Dimensions
28ft 11in (length)
38ft 0in (wingspan)
11ft 10in (height)
Wing Area
260 sq.ft.
Weight
5,542lb (empty)
7,431lb (gross)
8,221lb (max)
Number produced
4,737
Be the first to comment