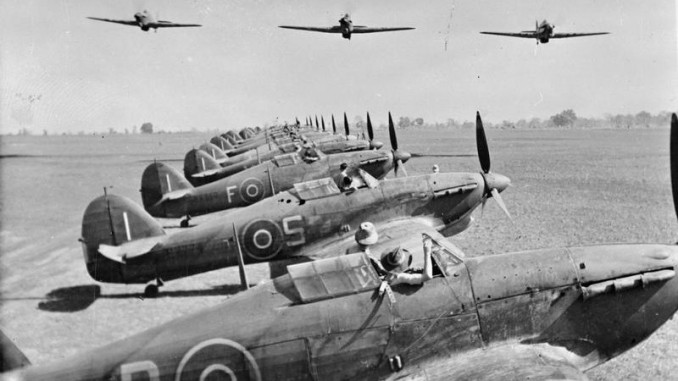 The Hawker Hurricane attained legendary status thanks to its exploits during the Battle of Britain, during which it actually shot down more German aircraft than the vaunted Spitfire. However, by the time the Pacific War opened the Hurricane was becoming a second string aircraft, although it was still expected to outperform the supposedly inferior aircraft available to the Japanese Army and Navy.
Designed in response to a series of evolving specifications for a new fighter to replace the biplanes then in service with the RAF, the Hurricane was constructed in an outdated style with a metal structure combined with wooden formers and fabric covered fuselage – although all but the early examples featured metal skinned wings. A relatively heavy armament of eight rifle-calibre machine guns was fitted, although in later marks this was increased to twelve (or in some models a pair of 40mm cannon). Like the Spitfire, the Hurricane was powered by the incomparable Merlin engine, giving the fighter a top speed approaching 350mph.
The first Hurricanes arrived at Singapore on the 27th of January 1942, flying off from the aircraft carrier Indomitable. They joined the remaining Brewster Buffaloes that then comprised the primary fighters defending the city. However, they proved little better at dealing with the A6M Zero and Ki-43 fighters than the Buffaloes, and within two weeks most of the Hurricanes were withdrawn to Sumatra. Soon afterwards, Singapore fell.
Hurricanes saw extended service in India and Burma, beginning with the incursion of the Japanese carrier force into the Indian Ocean. Here they were likewise inadequate as front-line fighters but proved effective when converted to fighter-bombers – known as 'Hurribombers' in this configuration. Many were supplied to the Indian Air Force which scored its one and only air-to-air victory with one. They remained in service right up until the end of the war.
Hawker Hurricane Specifications
Hawker Mk IIC Hurricane
Role
Fighter
Crew
1
Powerplant
1x Rolls-Royce Merlin XX (1,490hp)
Speed
340mph (max)
Ceiling
36,000ft
Range
600 miles (internal)
Armament
4x Hispano Mk II 20mm cannon

Ordnance
1,000lb bombs
Dimensions
32ft 3in (length)
40ft 0in (wingspan)
13ft 2in (height)
Wing Area
258 sq.ft.
Weight
5,745lb (empty)
7,670lb (gross)
8,710lb (max)
Number produced
4,711
Hawker Mk IV Hurricane
Role
Fighter
Crew
1
Powerplant
1x Rolls-Royce Merlin 24 (1,510hp)
Speed
Ceiling
0ft
Range
Armament
2x Vickers S 40mm Cannon

Ordnance
Dimensions
0ft 0in (length)
0ft 0in (wingspan)
0ft 0in (height)
Weight
Number produced
524
Be the first to comment