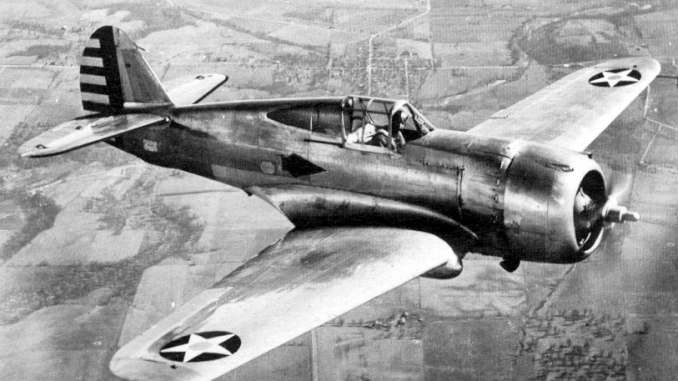 The Curtiss P-36 Hawk was designed as part of a competition to replace the P-26 Peashooter. In that competition the P-36 actually lost out to the Seversky P-35, but was nevertheless ordered in limited quantities as insurance against a failure of the P-35 project. In the end the P-36 was actually ordered in greater numbers than the P-35.
The P-36 was one of a wave of modern, all-metal monoplane fighters that appeared in the mid-1930s. It featured fully retractable landing gear (a feature deleted from some export models like the Hawk 75M). It had a powerful R-1830 engine that delivered over 1,000hp, giving the 'Hawk' a top speed of 300mph. Armament was rather weak for the time, with one .30cal and one .50cal machine gun, although this was increased with the addition of another pair of .30cals in the P-36C.
The P-36 saw the most action in its various export guises, equipping Chinese, Thai, British and French squadrons. In US service a handful of P-36s got airborne during the attack on Pearl Harbor, where they shot down several Japanese aircraft. That was the sole combat action of the Hawk in American hands, as the replacement P-40 took up most of burden during the next 12 months of the war.
Curtiss P-36 Hawk Specifications
Curtiss P-36A Hawk
Role
Fighter
Crew
1
Powerplant
1x Pratt & Whitney R-1830-17 (1,200hp)
Speed
270mph (cruise)
313mph (max)
Ceiling
32,700ft
Range
748 miles (internal)
Armament
1x Browning M2 .50cal Machine Gun
1x Browning AN-M2 .30cal Machine Gun

Ordnance
Dimensions
28ft 6in (length)
37ft 4in (wingspan)
8ft 5in (height)
Wing Area
236 sq.ft.
Weight
4,567lb (empty)
5,650lb (gross)
6,010lb (max)
Number produced
210
Curtiss P-36C Hawk
Role
Fighter
Crew
1
Powerplant
1x Pratt & Whitney R-1830-17 (1,200hp)
Speed
311mph (max)
Ceiling
33,700ft
Range
600 miles (internal)
Armament
1x Browning M2 .50cal Machine Gun
3x Browning AN-M2 .30cal Machine Gun

Ordnance
Dimensions
28ft 6in (length)
37ft 4in (wingspan)
8ft 5in (height)
Wing Area
236 sq.ft.
Weight
4,620lb (empty)
5,734lb (gross)
6,010lb (max)
Number produced
30
Be the first to comment