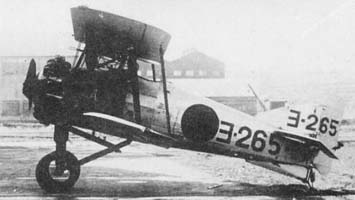 By 1926 the Japanese Navy's Mitsubishi 1MF fighters were no longer considered adequate, and the search began for a replacement. Aichi, Mitsubishi and Nakajima were invited to put forward prototypes for evaluation. Nakajima obtained a licensed to produce versions of the British Gloster Gambet, which was itself a navalised version of the Gloster Gamecock. The Gambet was powered by a Bristol Jupiter VI engine, which was also licensed for production by Nakajima.
The Nakajima A1N was an all-wooden, single seat biplane fighter with a pair of 7.7mm machine guns which fired through the propeller arc. It was fitted with specialised naval equipment including a tailhook for carrier landings, and flotation devices to keep the aircraft from sinking in the event of a water landing.
The Nakajima prototype proved more manoeuvrable and a better gun platform than the Aichi and Mitsubishi efforts, and was thus declared the winner of the competition and was designated the Type 3 Carrier Fighter, or A1N – the 'Type 3' referring to the year 1929, which was the 3rd year of the Showa era under Emperor Hirohito.
The initial production run was for 50 A1N1s, which had the same powerplant as the prototype. The second production run of 100 A1N2s switched to a slightly more powerful 450hp Nakajima Kotobuku 2, which increased top speed slightly.
Production ended in 1932 as the Navy began to look for more advanced types with higher performance. The A1N had a brief career in combat, seeing action during the 1932 Shanghai Incident. A Type 3 flown by Lt. Ikuta Nogiji scored the first aerial victory in the history of Japan, when he shot down an American-made Boeing 218 fighter over the city.
The aircraft was entirely withdrawn from service by 1935, replaced by the A2N.
Nakajima A1N Type 3 Specifications
Nakajima A1N1
Role
Carrier Fighter
Crew
1
Powerplant
1x Bristol Jupiter VI (520hp)
Speed
92mph (cruise)
140mph (max)
Ceiling
23,000ft
Range
230 miles (internal)
Armament
2x Type 89 7.7mm Machine gun

Ordnance
132lb bombs
Dimensions
21ft 4in (length)
31ft 10in (wingspan)
10ft 10in (height)
Wing Area
283 sq.ft.
Weight
1,944lb (empty)
3,031lb (max)
Number produced
50
Nakajima A1N2
Role
Carrier Fighter
Crew
1
Powerplant
1x Nakajima Kotobuki 2-kai-1 (585hp)
Speed
92mph (cruise)
150mph (max)
Ceiling
23,000ft
Range
230 miles (internal)
Armament
2x Type 89 7.7mm Machine gun

Ordnance
132lb bombs
Dimensions
21ft 4in (length)
31ft 10in (wingspan)
10ft 10in (height)
Wing Area
283 sq.ft.
Weight
1,944lb (empty)
3,031lb (max)
Number produced
100
Be the first to comment