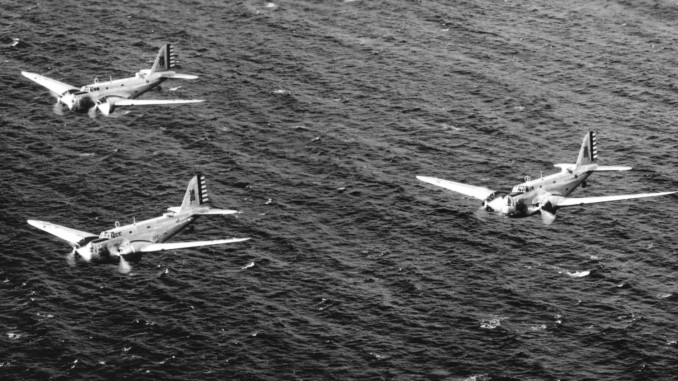 The Douglas B-18, later given the popular name 'Bolo', was designed in response to a 1934 request for a bomber to replace the Martin B-10 and B-12, which at the time made up the bulk of the American bomber force. The new aircraft was to have twice the range and twice the bombload of the existing aircraft. Boeing's competing design lost out when the prototype crashed but was sufficiently advanced to be ordered into production as the B-17 Flying Fortress, but the B-18 won the initial contract.
Based on Douglas' successful DC-2 airliner, the B-18 had lengthened wings and a redesigned nose structure to accommodate the bombardier's equipment. The fuselage was also redesigned to be deeper, with the wings mounted amidships, in order to provide space for the bombs to be carried in an internal bomb bay. Three machine guns were also mounted to give some defence against enemy interceptors.
The B-18 had an undistinguished war career. During the attacks on Pearl Harbor and the Philippines, dozens of the B-18s were destroyed on the ground by Japanese bombing, with none even getting airborne in response. Thereafter the remaining aircraft played only a very minor role in the conflict, mainly being used as transports or squadrons 'hacks'.
In the Atlantic and Caribbean theatres the B-18 enjoyed some limited success. Here the bomber was converted into an anti-submarine aircraft, being fitted with radar and Magnetic Anomaly Detection (MAD) gear. A few German U-boats were sunk by B-18s operating this role during late 1942.
Douglas B-18 Bolo Specifications
Douglas B-18 Bolo
Role
Medium Bomber
Crew
Powerplant
2x Wright R-1820-45 (930hp)
Speed
167mph (cruise)
217mph (max)
Ceiling
25,850ft
Range
1,200 miles (internal)
Armament
3x Browning AN-M2 .30cal Machine Gun

Ordnance
4,400lb bombs
Dimensions
56ft 8in (length)
89ft 6in (wingspan)
15ft 2in (height)
Wing Area
959 sq.ft.
Weight
15,719lb (empty)
21,130lb (gross)
27,087lb (max)
Number produced
132
Douglas B-18A Bolo
Role
Medium Bomber
Crew
Powerplant
2x Wright R-1820-53 (1,000hp)
Speed
167mph (cruise)
216mph (max)
Ceiling
25,600ft
Range
1,150 miles (internal)
Armament
3x Browning AN-M2 .30cal Machine Gun

Ordnance
4,400lb bombs
Dimensions
57ft 10in (length)
89ft 6in (wingspan)
15ft 2in (height)
Wing Area
959 sq.ft.
Weight
16,321lb (empty)
22,123lb (gross)
27,673lb (max)
Number produced
217
Be the first to comment