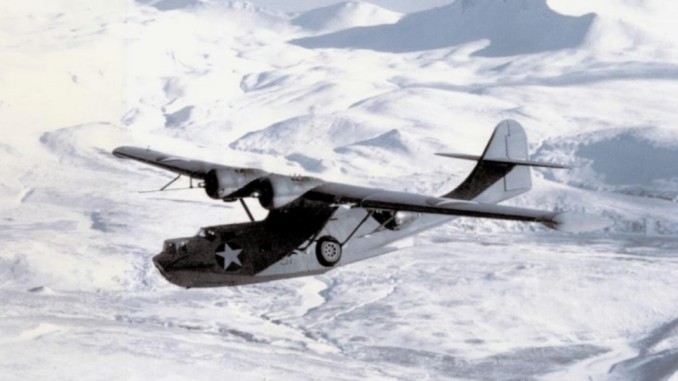 The Consolidated PBY Catalina was one of the legendary aircraft of World War II. In the late 1920s and into the 1930s the US Navy was interested in procuring long range patrol aircraft in order to provide the fleet with a reconnaissance capability over the Pacific Ocean. Early flying boats like the P2Y and Martin P3M proved inadequate, so a more capable aircraft was requested. Based partially on the P2Y, Consolidated designed a new XP3Y aircraft which, when provided with bombing capability, was re-designated the PBY.
The Consolidated PBY featured a distinctive parasol wing and a large single tail. In order to provide a more streamlined shape the outrigger floats retracted and formed the wingtips, an elegant feature. Endurance was excellent, with some aircraft performing patrols of 18 hours or more – capability that was put to good use in the Atlantic in closing the 'bomber gap' where U-boats operated. Later models included retractable landing gear so that they could operate from land bases as well as from water.
In the Pacific the PBY was in action from the start. Several were destroyed on the ground during the attack on Pearl Harbor, with the surviving aircraft trying in vain to locate the Kido Butai. The PBYs of Patrol Wing 10 in the Philippines fought in the rearguard action against the Japanese invasion and were almost wiped out in the attempt, as were Dutch PBYs during the invasion of Java. As the Japanese advanced PBYs were instrumental in keeping tabs on the oncoming fleets, including spotting the force approaching Midway before the battle for that island.
Later in the war PBYs were used offensively. Painted matte black, carrying loads of bombs and torpedoes, 'Black Cat' squadrons harassed Japanese shipping, sinking several ships and damaging enemy airfields. PBYs were also successfully used as search-and-rescue aircraft, picking up downed pilots from the sea – Catalinas operating in this role were known as 'Dumbo' aircraft. Although more modern aircraft like the PBM Mariner began to take over from the PBY later in the war, Catalinas nevertheless soldiered on right to the end.
The name 'Catalina' was given to the PBY by the British. The RAF named their aircraft after an island off San Diego, and when the US Navy decided to use popular names for its aircraft they adopted the British designation.
Consolidated PBY Catalina Specifications
Consolidated OA-10A Catalina
Role
Patrol Bomber
Crew
10
Powerplant
2x Pratt & Whitney R-1830-92 (1,200hp)
Speed
179mph (max)
Ceiling
14,700ft
Range
2,520 miles (internal)
Armament
2x Browning M2 .50cal Machine Gun
3x Browning AN-M2 .30cal Machine Gun

Ordnance
3,999lb bombs
2 torpedoes
Dimensions
65ft 2in (length)
104ft 0in (wingspan)
20ft 2in (height)
Wing Area
1400 sq.ft.
Weight
20,910lb (empty)
33,975lb (gross)
35,420lb (max)
Number produced
233
Consolidated OA-10B Catalina
Role
Patrol Bomber
Crew
10
Powerplant
2x Pratt & Whitney R-1830-92 (1,200hp)
Speed
196mph (max)
Ceiling
14,900ft
Range
2,535 miles (internal)
Armament
4x Browning M2 .50cal Machine Gun
1x Browning AN-M2 .30cal Machine Gun

Ordnance
3,999lb bombs
2 torpedoes
Dimensions
63ft 11in (length)
104ft 0in (wingspan)
18ft 11in (height)
Wing Area
1400 sq.ft.
Weight
21,480lb (empty)
34,550lb (gross)

Number produced
75
Consolidated PBY-3
Role
Crew
Powerplant
2x Pratt & Whitney R-1830-66 (1,200hp)
Speed
Ceiling
0ft
Range
Armament
Ordnance
Dimensions
0ft 0in (length)
0ft 0in (wingspan)
0ft 0in (height)
Weight
Number produced
66
Consolidated PBY-4 Catalina
Role
Patrol Bomber
Crew
Powerplant
2x Pratt & Whitney R-1830-72 (1,050hp)
Speed
198mph (max)
Ceiling
25,400ft
Range
Armament
Ordnance
Dimensions
65ft 2in (length)
104ft 0in (wingspan)
18ft 6in (height)
Wing Area
1400 sq.ft.
Weight
22,295lb (gross)

Number produced
33
Consolidated PBY-5 Catalina
Role
Patrol Bomber
Crew
Powerplant
2x Pratt & Whitney R-1830-92 (1,200hp)
Speed
190mph (max)
Ceiling
21,600ft
Range
Armament
Ordnance
Dimensions
63ft 10in (length)
104ft 0in (wingspan)
18ft 11in (height)
Wing Area
1400 sq.ft.
Weight
26,200lb (gross)

Radar
ASE (Surface search)
Number produced
684
Consolidated PBY-5A Catalina
Role
Patrol Bomber
Crew
10
Powerplant
2x Pratt & Whitney R-1830-92 (1,200hp)
Speed
179mph (max)
Ceiling
14,700ft
Range
2,520 miles (internal)
Armament
2x Browning M2 .50cal Machine Gun
3x Browning AN-M2 .30cal Machine Gun

Ordnance
3,999lb bombs
2 torpedoes
Dimensions
65ft 2in (length)
104ft 0in (wingspan)
20ft 2in (height)
Wing Area
1400 sq.ft.
Weight
20,910lb (empty)
33,975lb (gross)
35,420lb (max)
Radar
AN/APS-3 (Airborne surface search)ASE (Surface search)ASB (Airborne surface search)
Number produced
802
Consolidated PBY-6A Catalina
Role
Patrol Bomber
Crew
10
Powerplant
2x Pratt & Whitney R-1830-92 (1,200hp)
Speed
196mph (max)
Ceiling
14,900ft
Range
2,535 miles (internal)
Armament
4x Browning M2 .50cal Machine Gun
1x Browning AN-M2 .30cal Machine Gun

Ordnance
3,999lb bombs
2 torpedoes
Dimensions
63ft 11in (length)
104ft 0in (wingspan)
18ft 11in (height)
Wing Area
1400 sq.ft.
Weight
21,480lb (empty)
34,550lb (gross)

Radar
AN/APS-3 (Airborne surface search)
Number produced
175
Be the first to comment