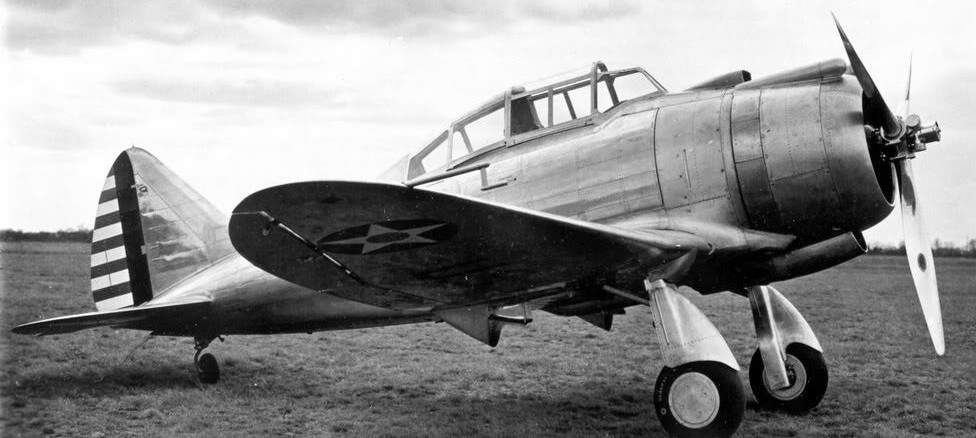 Developed from a series of unsuccessful trainer types, the Seversky P-35 shared many of the characteristics of these earlier designs but with a new engine and additional features including retractable landing gear. The design failed to meet the specified maximum speed of 300mph but was nevertheless declared the winner of the competition. However, the competing Curtiss fighter, the P-36 Hawk, was also ordered into production when deliveries of P-35s proved too slow.
The P-35 was the first USAAF fighter to feature all-metal construction, a fully enclosed cockpit and retractable undercarriage. However by contemporary standards it was already unsuitable as a front line fighter even as it was being delivered in 1938, lacking the speed to compete with the latest British and German designs, despite its ruggedness.
A number of P-35s were ordered by the Swedish Air Force, but with the imposition of an embargo on sales of aircraft abroad the export models were soon requisitioned by the USAAF and designated P-35A. The Japanese Navy also ordered a two-seater variant which they designated the A8V – the Allies gave this aircraft the reporting name "Dick". The A8V was not considered a particularly good aircraft and was soon relegated to training duties.
The type had a very short combat career, equipping a single squadron of the Far East Air Force, based in the Philippines. The 34th Pursuit Squadron flew their P-35s in action against the Japanese but had lost most of them by the end of December 1941. A handful continued to fly on until the Philippines fell in May 1942.
Alexander Seversky himself was then ejected from his own company by the board of directors, with the company then being renamed Republic Aviation. The new company would go on to produce some excellent aircraft, especially the P-47 Thunderbolt.
Seversky P-35 Specifications
Seversky P-35
Role
Fighter
Crew
1
Powerplant
1x Pratt & Whitney R-1830-45 (1,050hp)
Speed
260mph (cruise)
290mph (max)
Ceiling
31,400ft
Range
950 miles (internal)
Armament
2x Browning M2 .50cal Machine Gun
2x Browning AN-M2 .30cal Machine Gun

Ordnance
350lb bombs
Dimensions
26ft 10in (length)
36ft 0in (wingspan)
9ft 9in (height)
Wing Area
220 sq.ft.
Weight
4,575lb (empty)
6,118lb (gross)
6,723lb (max)
Number produced
77
Seversky P-35A
Role
Fighter
Crew
1
Powerplant
1x Pratt & Whitney R-1830-45 (1,050hp)
Speed
260mph (cruise)
290mph (max)
Ceiling
31,400ft
Range
950 miles (internal)
Armament
2x Browning M2 .50cal Machine Gun
2x Browning AN-M2 .30cal Machine Gun

Ordnance
350lb bombs
Dimensions
26ft 10in (length)
36ft 0in (wingspan)
9ft 9in (height)
Wing Area
220 sq.ft.
Weight
4,575lb (empty)
6,118lb (gross)
6,723lb (max)
Number produced
106
Be the first to comment