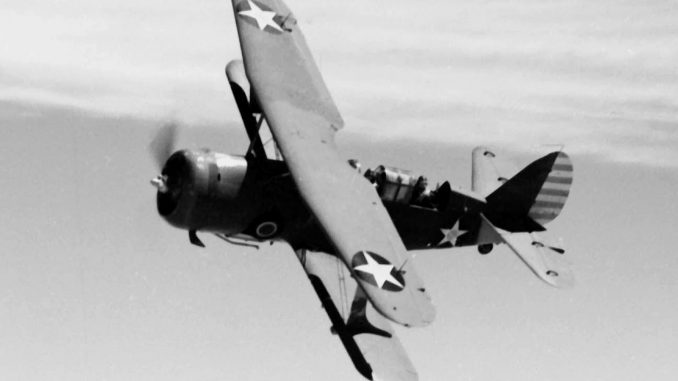 The Curtiss SBC was derived from the prototype XF12C fighter, which was a monoplane with a high mounted parasol wing. This design proved to be extremely flawed when the mission of the XF12C was changed from being a fighter to a dive-bomber, and the re-designated XSBC was radically redesigned as a biplane with a different engine. It would prove to be the last biplane ordered by the US Navy for its carrier fleet.
The Curtiss SBC as accepted by the Navy was a staggerwing biplane, with many of the latest innovations in design – retractable undercarriage, an enclosed cockpit for both the pilot and the radioman-gunner, and a metal fuselage with doped fabric coverings for the control surfaces. Bombs up to 1,000lb could be carried on a cradle that swung away from the aircraft, ensuring that the payload would not strike the propeller as it was dropped at the end of a dive. The performance of the SBC was quite good for its time, but within a few short years it would prove obsolete.
Several Navy scout and bombing squadrons were equipped with the SBC starting in 1937, although some older SBUs were retained. However, as war loomed in 1941 the Navy had already introduced the much better Douglas SBD to most front-line combat squadrons, and the SBC was relegated to second line duties, flying with training commands and as squadron 'hacks'.
The US Marines were supplied with enough SBCs to outfit one squadron, VMO-151, which was transferred to American Samoa in May 1942 and flew patrol missions. This duty was relatively uneventful and the squadron saw no action. A second unit, VMO-155, also flew the SBC briefly, before the type was completely withdrawn from forward areas in mid-1943.
A total of 50 SBC were also supplied to France in 1940, but these aircraft were still in transit aboard the carrier Béarn when France fell. This ship spent the war tied up at Martinique, and the SBCs were kept in the open in a nearby field where they deteriorated slowly until they were eventually scrapped. Five SBCs from the French order were diverted to the RAF, which used them as trainers.
Curtiss SBC Helldiver Specifications
Curtiss SBC-4 Helldiver
Role
Dive bomber
Crew
2: Pilot, radioman/gunner
Powerplant
1x Wright R-1820-34 (950hp)
Speed
175mph (cruise)
234mph (max)
Ceiling
24,000ft
Range
405 miles (internal)
Armament
2x Browning AN-M2 .30cal Machine Gun

Ordnance
1,000lb bombs
Dimensions
28ft 2in (length)
34ft 0in (wingspan)
10ft 5in (height)
Wing Area
317 sq.ft.
Weight
4,552lb (empty)
7,080lb (gross)
7,632lb (max)
Number produced
174
Be the first to comment