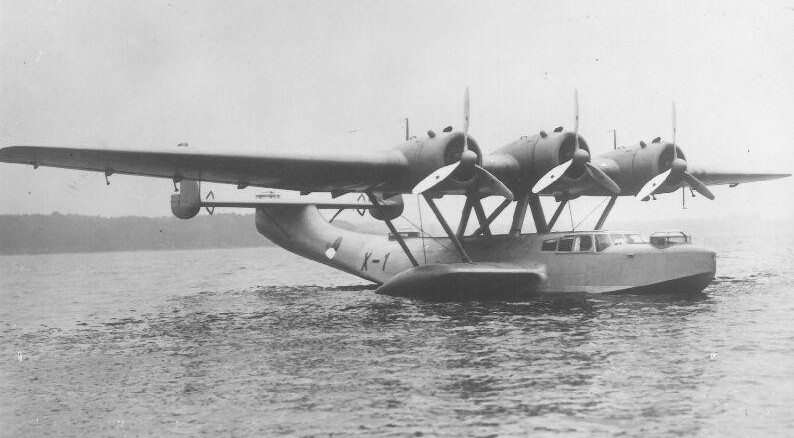 The Dornier Do 24 was a long range reconnaissance flying boat designed for the Dutch Marine-Luchtvaartdienst (MLD) to operate in the Netherlands East Indies. There it would replace the older Dornier Do J Wal flying boats which were an early 1920s design that was increasingly obsolete.
Amongst the requirements for the new aircraft was a specification that the Do 24 could be fitted with the same Wright R-1820 engines that powered the Martin 139 bombers in service in the NEI. This would simplify the maintenance requirements in the far flung islands of the archipelago. Three of these engines were mounted on the large parasol wing. The initial aircraft were built by Dornier in Germany, but later ones were to be constructed in the Netherlands.
37 of these aircraft were purchased and sent to the Far East by 1940, but following the fall of the Netherlands in May 1940 the remaining aircraft under construction were requisitioned by the Luftwaffe. The Do 24s flew alongside MLD PBY Catalinas that were purchased from the United States. When the war began several of these aircraft were sent to Singapore to operate alongside the RAF's Catalina squadrons. Prior to the beginning of hostilities these aircraft were employed in keeping tabs on Japanese shipping in the Indies, including fishing boats as well as the approaching invasion fleets.
During the invasion of the NEI Do 24s carried out reconnaissance missions and bombed suspected Japanese shipping. During these missions encounters with Japanese patrol bombers and floatplane fighters were common, several being claimed shot down by the Dutch crews. The Do 24s were gradually withdrawn south as the Japanese invasion unfolded, their numbers dwindling as crew fatigue, poor maintenance and enemy action took a toll on the aircraft.
A handful of surviving Do 24s were sold to Australia after the fall of Java, but these soon proved to be useless due to a lack of spare parts.
Dornier Do 24 Specifications
Dornier Do 24T-1
Role
Patrol
Crew
6
Powerplant
2x BMW 323R (1,184hp)
Speed
183mph (cruise)
210mph (max)
Ceiling
24,600ft
Range
1,800 miles (internal)
2,900 miles (external)
Armament
2x MG 15 7.92mm Machine Gun
1x MG 151 20mm cannon

Ordnance
2,646lb bombs
Dimensions
72ft 4in (length)
88ft 6in (wingspan)
18ft 10in (height)
Wing Area
1160 sq.ft.
Weight
20,723lb (empty)
30,203lb (gross)
40,565lb (max)
Number produced
159
Be the first to comment