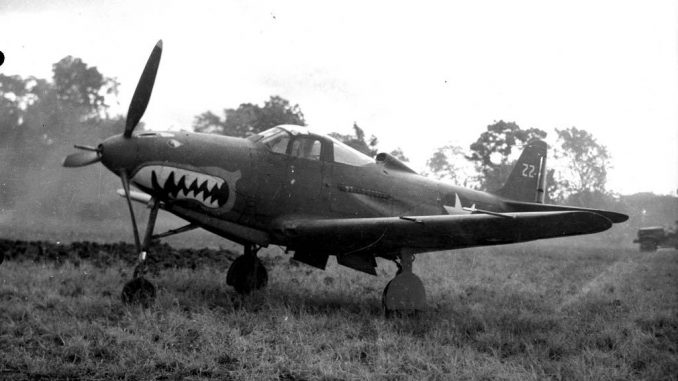 The Bell P-39 was designed in 1937 in response to a USAAC requirement for a new fighter that could match the performance of European models that were then in development – particularly the Supermarine Spitfire and Messerschmitt Bf 109. The Bell design team decided to mount the P-39's engine behind the pilot, attached to the propeller by a long shaft, which promised to allow greater manoeuvrability and would allow for the installation of a large 25mm cannon in the nose. The Army was also impressed by the promised 400mph top speed.
The P-39 Airacobra, as it was named, was fatally compromised by the Army's decision not to fit production models of the fighter with a turbosupercharger – the theory being that no bomber could reach the United States, and therefore a high-altitude interceptor was unnecessary. The addition of heavier armament (a 37mm cannon replaced the 25mm of the prototype) meant that performance suffered further, although at low altitude it could still attain over 350mph. Climb rate was decidedly inferior to likely enemy fighters. The P-39 was also the first American fighter to feature tricycle landing gear.
A British order for 675 P-39s was partially filled in late 1941, but it was discovered that the aircraft had a number of severe flaws and the type was withdrawn from combat after just a few missions. Most of the order was subsequently diverted to Russia, but a number where requisitioned by the USAAF and pressed into service as the 'P-400'. Many of these aircraft were rushed to the South Pacific following Pearl Harbor, there being few other fighters available. The 67th Fighter Squadron, part of the 'Cactus Air Force', notably flew their P-400s from Henderson Field on Guadalcanal in 1942.
P-39s, along with P-40s, formed the backbone of the 5th Air Force fighter groups in New Guinea during the first 18 months of the war. They were sadly outclassed by the Japanese Zero and many were lost, unable to compete in air combat with the Mitsubishi type, apart from the few occasions when they were able to bring their heavy armament to bear. Nor was the P-39 very capable as an interceptor, proving unable to reach high-flying bomber formations. One group of P-39s was assigned to the 11th Air Force in the Aleutians where it faced much less capable opposition.
As soon as superior aircraft became available in numbers, the P-39 was soon withdrawn from combat. In the Pacific P-38 Lightnings and P-47 Thunderbolts were much preferred. However, the Soviet Union made good use of Lend-Lease Airacobras, receiving many thousands of them as well as being the sole significant user of the much-improved P-63 Kingcobra.
Specifications:
Bell P-400 Airacobra
Role
Fighter
Crew
1
Powerplant
1x Allison V-1710-E4, 1,150hp
Speed
355mph (max)
Ceiling
24,000ft
Range
600 miles
Armament
1x 20mm cannon, 2x .50cal machine guns, 2x .30cal machine guns
Ordnance
500lb bombs
Dimensions
30ft 2in (length)
34ft 0in (wingspan)
11ft 10in (height)
Wing Area
213 sq.ft.
Weight
5,462lb (empty)
7,845lb (gross)
8,200lb (max)
Number produced
200
In service with
USAAF
Bell P-39D Airacobra
Role
Fighter
Crew
1
Powerplant
1x Allison V-1710-35, 1,150hp
Speed
368mph (max)
Ceiling
32,100ft
Range
600 miles
Armament
1x 37mm cannon, 2x .50cal machine guns, 4x .30cal machine guns
Ordnance
500lb bombs
Dimensions
30ft 2in (length)
34ft 0in (wingspan)
11ft 10in (height)
Wing Area
213 sq.ft.
Weight
5,462lb (empty)
7,500lb (gross)
8,200lb (max)
Number produced
454
In service with
USAAF
Bell P-39Q Airacobra
Role
Fighter
Crew
1
Powerplant
1x Allison V-1710-85, 1,200hp
Speed
376mph (max)
Ceiling
35,000ft
Range
525 miles (internal)
1,075 miles (external)
Armament
1x 37mm cannon, 4x .50cal machine guns
Ordnance
500lb bombs
Dimensions
30ft 2in (length)
34ft 0in (wingspan)
12ft 5in (height)
Wing Area
213 sq.ft.
Weight
5,645lb (empty)
7,600lb (gross)
8,300lb (max)
Number produced
4,905
In service with
USAAF