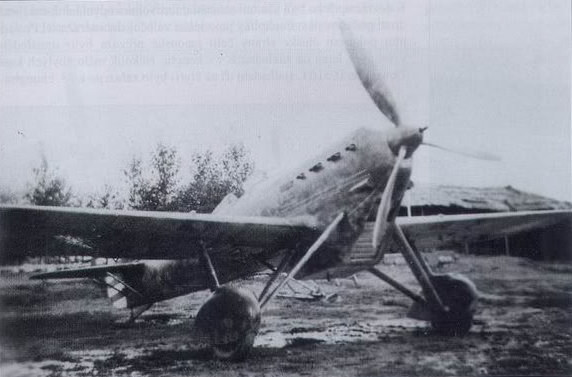 The Dewoitine D.510 fighter was an improvement on the original D.500, which was introduced to replace biplane designs then in service with the French Armée de l'Air. The D.500/510 was similar to aircraft like the Boeing P-26 and Mitsubishi A5M in that it featured some of the latest developments in aeronautical design such as monoplane wings, but lacked other features which would shortly be regarded as essential like enclosed cockpits and retractable landing gear.
The D.510 featured a more powerful engine than the D.500, producing 860hp and capable of driving the aircraft forward at 250mph. The fighter was armed with a 20mm cannon firing through the propeller hub plus two wing-mounted 7.5mm machine guns.
The type entered service with the French Armee De L'Air in October 1936. China imported a total of 24 D.510s through the Central Aircraft Manufacturing Company (CAMCO). The fighters were originally assigned to the 41st Pursuit Squadron, manned by foreign volunteers, but the unit was disbanded without ever seeing action. Later 18 D.510s were assigned to the 17th Pursuit Squadron as it defended the skies above Chungking and Chengdu from Japanese bombers.
A single D.510 was supplied to the Imperial Japanese Navy for evaluation, but the A5M was believed to be superior and so no mass orders for the fighter were forthcoming.
Dewoitine D.500 Specifications
Dewoitine D.510
Role
Fighter
Crew
1
Powerplant
1x Hispano-Suiza 12Ycrs (860hp)
Speed
250mph (max)
Ceiling
36,000ft
Range
430 miles (internal)
Armament
2x MAC 1934 7.5mm machine gun
1x Hispano-Suiza HS.9 20mm cannon

Ordnance
Dimensions
26ft 1in (length)
39ft 8in (wingspan)
7ft 11in (height)
Wing Area
178 sq.ft.
Weight
3,298lb (empty)
4,253lb (gross)

Number produced
120
Be the first to comment