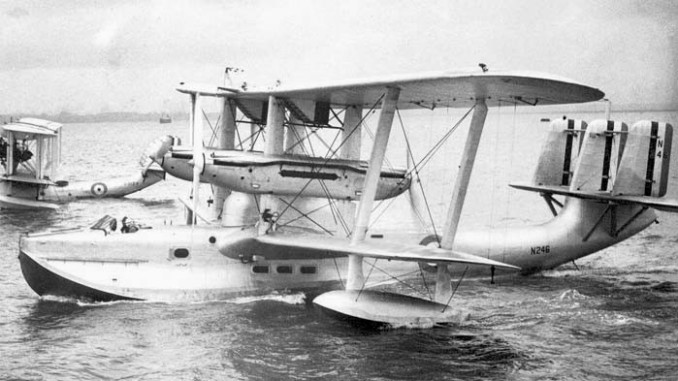 The Short Singapore was a flying boat that was originally designed as a twin-engine aircraft in the mid-1920s which was not ordered by the RAF, with the sole Singapore Mk I being used for survey flights in Africa. The improved Mk II, with four engines in pusher-puller configuration, was likewise rejected by the RAF but it did lead on to the Mk III, which entered into service in 1935.
The four Rolls-Royce Kestrel engines were mounted in pairs in each nacelle, with one 'pushing' and the other 'pulling'. The nacelles were mounted underneath the parasol wing but above the fuselage. There were three gun positions, which were open to the elements, each with a single rifle-calibre machine gun for defense against enemy aircraft.
Four Singapores were based, appropriately if slightly confusingly, at Seletar on Singapore island during 1941. However, by then it was obvious the type was too old to be useful and so the aircraft were transferred from 205 Squadron RAF to 5 Squadron RNZAF, who would fly them on anti-raider patrols from Fiji. Two of the Singapores were still in Singapore when the war broke out, these carried out search missions for a few days before being withdraw and sent on to Fiji.
5 Squadron flew their Singapores during 1942, carrying out inshore patrol missions and escorting friendly vessels through the waters near Fiji. On 10th of July a Singapore flown by Flt Lt MacGregor spotted and attacked an enemy submarine off Suva Bay and dropped a bomb on it, claiming damage. This was the sole combat action of the type.
In early 1943 the tired Singapores were withdrawn from service due to lack of spare parts, later to be replaced by PBY Catalinas.
Short Singapore Specifications
Short Mk III Singapore
Role
Patrol
Crew
6
Powerplant
2x Rolls-Royce Kestrel VIII (675hp)2x Rolls-Royce Kestrel IX (675hp)
Speed
123mph (cruise)
136mph (max)
Ceiling
15,000ft
Range
1,000 miles (internal)
Armament
Ordnance
1,100lb bombs
Dimensions
64ft 2in (length)
90ft 0in (wingspan)
23ft 7in (height)
Wing Area
1465 sq.ft.
Weight
20,364lb (empty)
28,160lb (gross)
32,390lb (max)
Number produced
37
Be the first to comment