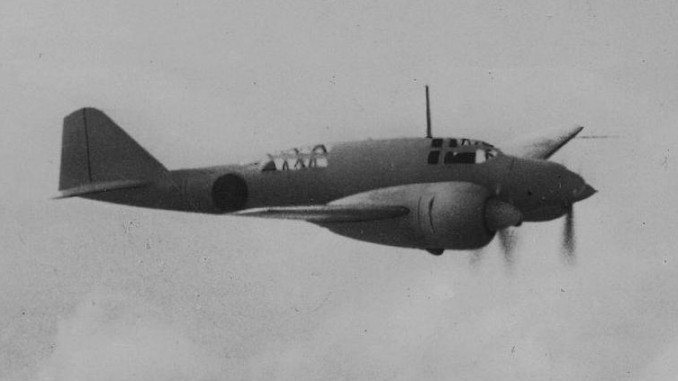 In December 1937 the Japanese Army began a process to replace the Ki-15 reconnaissance aircraft which was proving to be so capable during the China Incident. The specifications were relatively liberal, with the requirement simply to produce an aircraft with sufficient speed and endurance to outrun any fighter aircraft then in service or development. This allowed the Mitsubishi design team under Tomio Kubo to come up with an imaginative design for a twin-engine aircraft with a very aerodynamic shape, which became the Mitsubishi Ki-46. This aircraft took to the air for the first time in November 1939.
The two engines were Mitsubishi Ha-26s with specially designed cowls that greatly reduced drag. The fuselage was very slim and likewise streamlined, but still retained enough space for the two crew and a single defensive machine with which to fend off any fighter that was lucky enough to get close. Later in the war it was realised that the Ki-46 would make a good interceptor against high-flying American bombers, so versions with a 37mm cannon in a "shräge muzik" configuration were stationed in the Home Islands. Here they had numerous encounters with the giant B-29s that were firebombing Japanese cities.
The Mitsubishi Ki-46 first saw action in China during 1941. Several of the type carried out clandestine reconnaissance missions before the opening of hostilities in December 1941, overflying Allied bases in Malaya and the Philippines. As the Japanese offensive unfolded throughout the Southwest Pacific Ki-46s were at the forefront, reconnoitring bases and bringing back valuable information on Allied strength.
Like most Japanese aircraft the Ki-46 was lightly armoured and vulnerable to any Allied fighter that could get within range, and as more powerful fighters became available the aircraft became far more vulnerable. Still, it remained a very capable aircraft and continued to play a role through the closing months of the war, even outperforming its intended replacement – the Tachikawa Ki-70.
In 1942 the Ki-46 was assigned the Allied Reporting Name "Dinah".
Mitsubishi Ki-46 Type 100 Specifications
Mitsubishi Ki-46-I
Role
Command Reconnaissance
Crew
2: Pilot and observer
Powerplant
2x Mitsubishi Zuisei 14 (900hp)
Speed
336mph (max)
Ceiling
35,530ft
Range
1,305 miles (internal)
Armament
1x Type 89 7.7mm Machine gun

Ordnance
Dimensions
36ft 1in (length)
48ft 3in (wingspan)
12ft 9in (height)
Wing Area
344 sq.ft.
Weight
7,449lb (empty)
10,631lb (gross)

Number produced
34
Mitsubishi Ki-46-II
Role
Command Reconnaissance
Crew
2: Pilot and observer
Powerplant
2x Mitsubishi Zuisei 21 (1,050hp)
Speed
249mph (cruise)
375mph (max)
Ceiling
35,200ft
Range
1,337 miles (internal)
1,537 miles (external)
Armament
1x Type 89 7.7mm Machine gun

Ordnance
Dimensions
36ft 1in (length)
48ft 3in (wingspan)
12ft 9in (height)
Wing Area
344 sq.ft.
Weight
7,194lb (empty)
11,133lb (gross)
12,787lb (max)
Number produced
1,093
Mitsubishi Ki-46-III
Role
Command Reconnaissance
Crew
2: Pilot and observer
Powerplant
2x Mitsubishi Kinsei 62 (1,560hp)
Speed
391mph (max)
Ceiling
34,450ft
Range

2,485 miles (external)
Armament
Ordnance
Dimensions
36ft 1in (length)
48ft 3in (wingspan)
12ft 9in (height)
Wing Area
344 sq.ft.
Weight
8,446lb (empty)
12,619lb (gross)
14,330lb (max)
Mitsubishi Ki-46-III-Kai
Role
Air Defence Fighter
Crew
2: Pilot and observer
Powerplant
2x Mitsubishi Kinsei 62 (1,560hp)
Speed
391mph (max)
Ceiling
34,450ft
Range
1,243 miles (internal)
Armament
1x Ho-204 37mm cannon
2x Ho-1 20mm Cannon

Ordnance
Dimensions
37ft 8in (length)
48ft 3in (wingspan)
12ft 9in (height)
Wing Area
344 sq.ft.
Weight
8,446lb (empty)
13,730lb (gross)

Number produced
609
Mitsubishi Ki-46-IV
Role
Command Reconnaissance
Crew
2: Pilot and observer
Powerplant
2x Mitsubishi Kinsei 62 (1,560hp)
Speed
280mph (cruise)
391mph (max)
Ceiling
36,090ft
Range

2,485 miles (external)
Armament
2x Ho-1 20mm Cannon

Ordnance
Dimensions
36ft 1in (length)
48ft 3in (wingspan)
12ft 9in (height)
Wing Area
344 sq.ft.
Weight
8,840lb (empty)
13,007lb (gross)
14,330lb (max)
Number produced
4
Be the first to comment