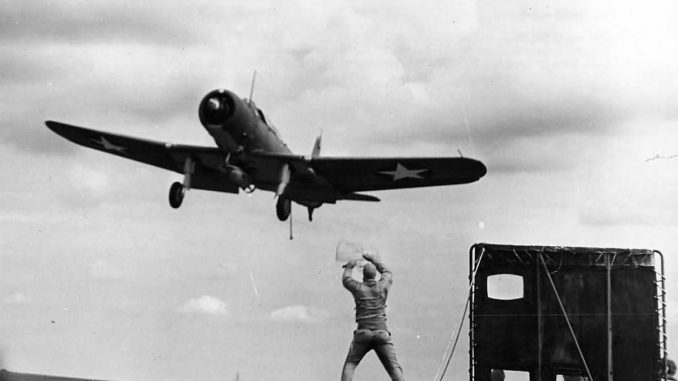 In 1934 the US Navy invited bids for a new carrier-based scout bomber, and received no less than six competing designs. Four of these would be ordered into production – Curtiss' upgraded SBC-3 biplane, the Northrop BT-1 (which would become the Douglas SBD), the Brewster SBA and the Vought SB2U. Whilst the SBD would go on to have a stellar war record, the others would all remain relatively obscure.
The SB2U was designated the V-156 within the Vought corporation, and it was one of the very first monoplanes to be ordered by the Navy. It featured a low-wing configuration, with the latest innovations including retractable landing gear and a partial metal construction, although the aft part of the fuselage and the control surfaces were fabric-covered. The wings could be folded by flight deck crews. The Navy was unsure whether these innovations would prove a success, and as insurance ordered an improved version of Vought's previous SBU model. However, the SB2U proved superior and the XSB3U was not ordered into production.
Several V-156Fs were sold to the French Navy for service aboard the carrier Béarn, but this carrier was not thought fit for action and the aircraft instead fought from land bases during the Battle of France. One squadron was almost completely destroyed in the first few days of fighting, and the remaining aircraft were pulled back to the Channel coast and the south of France after an undistinguished combat career. Two squadrons were deployed on the carrier Wasp during her cruise to Europe in 1942, but these were left behind in Scotland when the carrier delivered Spitfires to Malta.
By 1942 the remaining SB2Us had been handed down to the Marines, but these were in poor shape. In many cases they were held together with tape, which led to the aircraft being nicknamed the 'wind indicator'. A squadron of Marine SB2Us, due to be delivered to Midway, was aboard the Lexington when the Japanese attacked Pearl Harbor. These aircraft were forced to make a long over-water flight from Oahu to Midway after the delivery attempt was cancelled. The only combat seen by the SB2U was during the Battle of Midway, when 14 Vindicators of VMSB-241 set out to attack the Japanese Kido Butai on the morning of the 4th of June. Two were shot down after a fruitless attempt to attack the battleship Haruna. The following day, Capt Richard E. Fleming was awarded the Medal of Honor for an attack on the cruiser Mikuma, from which he did not return.
Vought SB2U Vindicator Specifications
Vought SB2U-2 Vindicator
Role
Dive bomber
Crew
2: Pilot, gunner
Powerplant
1x Pratt & Whitney R-1535-96 (825hp)
Speed
251mph (max)
Ceiling
27,500ft
Range
630 miles (internal)
Armament
2x Browning AN-M2 .30cal Machine Gun

Ordnance
1,000lb bombs
Dimensions
34ft 0in (length)
42ft 0in (wingspan)
10ft 3in (height)
Wing Area
305 sq.ft.
Weight
4,713lb (empty)
6,379lb (gross)
7,332lb (max)
Number produced
58
Be the first to comment