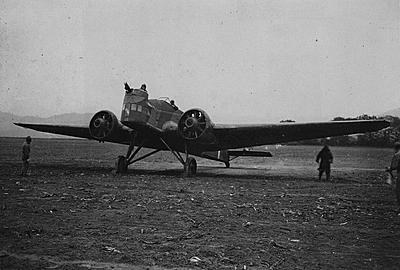 The Mitsubishi Ki-1 and Ki-2 bombers were both derivatives of the German-made Junkers K37. The sole K37 prototype was purchased by Japan in 1931, and briefly testing during the 'Manchuria Incident' that same year. The results were good enough for Mitsubishi to be authorised to build light and heavy bomber versions of the aircraft.
The Mitsubishi Ki-2, unlike the Ki-1, actually had a lot in common with the K37. It was roughly the same size and weight of the parent design, and featured the distinctive corrugated wings that also appeared on the Junkers Ju52 transport plane. When the original Nakajima Jupiter engines were replaced with 750hp Mitsubishi Ha8s, performance was much improved. The Ki-2 was designated the Type 93 Light Bomber when it was accepted for service.
Like the Ki-1, the Ki-2 was already very outdated by the time of the Sino-Japanese War and was replaced in service by newer models like the BR.20 and Ki-21. By the time of Pearl Harbor the type had been entirely withdrawn into training roles. The Allies, believing that a few of the type might still be used in combat, assigned the reporting name "Louise" to the bomber in 1942.
Mitsubishi Ki-2-II Type 93-2 "Louise"
Role
Light bomber
Crew
3: pilot, co-pilot/navigator, radioman
Powerplant
2x Mitsubishi Ha8, 750hp
Speed (max)
176mph
Ceiling
23,000
Range
560
Armament
2x 7.7mm machine guns
Ordnance
500kg bombs
Dimensions (L/W/H)
41ft 4in / 65ft 6in / 15ft 2in
Weight (empty/max)
6173lb / 9921lb