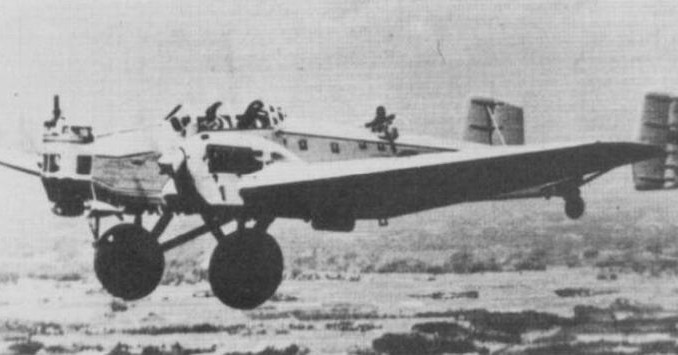 The Mitsubishi Ki-1 and Ki-2 bombers were both derivatives of the German-made Junkers K37. The sole K37 prototype was purchased by Japan in 1931, and briefly testing during the 'Manchuria Incident' that same year. The results were good enough for Mitsubishi to be authorised to build light and heavy bomber versions of the aircraft.
The Ki-1 as designed was very different from the K37, sharing little but the overall shape. It was a low-wing monoplane with cantilevered wings, powered by a pair of Mitsubishi Ha2 engines which could propel the bomber at almost 140mph. This was quite slow even for the era, and what was worse if one of the engines failed, altitude could not be maintained using only the remaining engine. This fact was made worse by the notorious unreliability of the Ha2. Despite this, the Ki-1 was accepted into service with the IJAAF as the Type 93 Heavy Bomber.
Type 93s flew over Manchuria during the 'pacification' of the territory after 1931. During the initial months of the Sino-Japanese War the type flew on missions against Chinese targets in northern China. It was obvious that the type was inadequate but with alternatives not due into service until 1938, the Type 93 had to soldier on.
Eventually Italian-made Fiat BR.20 bombers were procured as a stopgap until the Mitsubishi Ki-21 could be produced in sufficient numbers to replace the Ki-1. By 1938 the type had been withdrawn entirely from front line service.
Mitsubishi Ki-1 Type 93-2
Role
Heavy bomber
Crew
4: Pilot, co-pilot, 2 gunners.
Powerplant
2x Mitsubishi Ha2-3 (970hp)
Speed (max)
140mph
Ceiling
16,400ft
Range
Armament
3x 7.7mm machine guns
Ordnance
1,500kg bombs
Dimensions (L/W/H)
48ft 7in / 86ft 11in / 16ft 2in
Weight (empty/max)
10,759lb / 17857lb