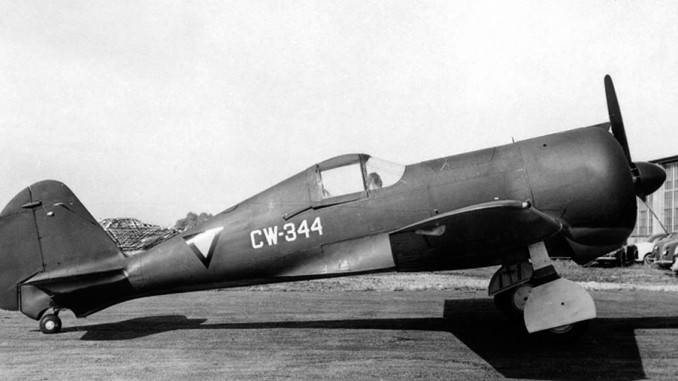 The Curtiss-Wright CW-21 was privately designed by the company in order to fulfil a perceived need for lightweight, fast-climbing interceptors on the international market. The USAAF had no need for aircraft of this type, so lead designer George A. Page was not encumbered by the requirements of the US military. The CW-21 was partly based on an older design, the CW-19 two-seat utility aircraft.
A low-winged monoplane fighter, the CW-21 otherwise featured few of the features that were being fitted as standard to USAAF fighters. For instance, the CW-21 eschewed self-sealing fuel tanks and pilot armour in order to keep weight to a minimum. Armament was relatively light, consisting of a pair of .30cal or .50cal machine guns only. The CW-21's low weight meant that it had a climb rate rivalling most of the Japanese fighters that would constitute the interceptor's opposition. The engine was essentially the same Wright R-1820 that powered the F2A Buffalo and the B-17 Flying Fortress.
An initial export order came from the Chinese Air Force in 1939. Curtiss test pilot Bob Fausel flew a demonstration machine during an air raid and shot down a Japanese Fiat BR.20 over Chungking in April 1939. An order for 27 disassembled aircraft followed, with these arriving in China during 1941. However, none was constructed as a Japanese offensive forced the abandonment of the Loiwing factory where the aircraft were to be completed.
The Dutch Air Force also showed interest in the improved CW-21B, placing orders for 24 aircraft also for delivery in 1941. However during the intervening period the Netherlands fell to Germany, so the aircraft were diverted to the Netherlands East Indies where they arrived in February 1941. The lightweight construction of the type led to structural issues which kept many of the fighters grounded, but a number were kept airworthy and these attempted to fend off Japanese air forces during the invasion of Java, scoring a few successes before the small force was wiped out.
Curtiss-Wright CW-21 Demon Specifications
Curtiss-Wright CW-21B Demon
Role
Fighter
Crew
1
Powerplant
1x Wright R-1820-G5 (850hp)
Speed
282mph (cruise)
314mph (max)
Ceiling
34,300ft
Range
630 miles (internal)
Armament
2x Browning M2 .50cal Machine Gun
2x Browning AN-M2 .30cal Machine Gun

Ordnance
Dimensions
27ft 3in (length)
35ft 0in (wingspan)
8ft 2in (height)
Wing Area
174 sq.ft.
Weight
3,382lb (empty)
4,500lb (gross)

Number produced
24
Be the first to comment